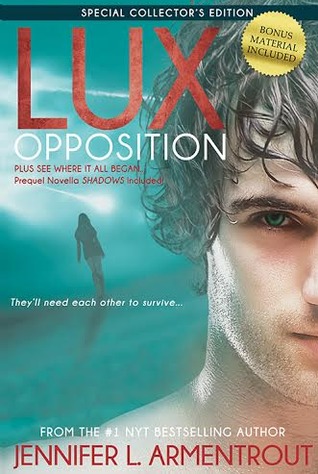 Author Jennifer L. Armentrout
Format paperback
Print Length 500 pages
Publisher Entangled Teen
Published August 5, 2014
Katy knows the world changed the night the Luxen came.
She can't believe Daemon welcomed his race or stood by as his kind threatened to obliterate every last human and hybrid on Earth. But the lines between good and bad have blurred, and love has become an emotion that could destroy her—could destroy them all.
Daemon will do anything to save those he loves, even if it means betrayal.
They must team with an unlikely enemy if there is any chance of surviving the invasion. But when it quickly becomes impossible to tell friend from foe, and the world is crumbling around them, they may lose everything— even what they cherish most—to ensure the survival of their friends…and mankind.
War has come to Earth. And no matter the outcome, the future will never be the same for those left standing.
My Opinion
This review may contain spoilers from the previous four books in the Lux series- precede with caution.
Opposition is a book that is a rarity. A book that has you biting your nails, screamingat the characters, laughing out loud or even tears in your eyes. A beautifully written conclusion to an action packed series.
Opposition takes place literally days from when Origin ends. The aliens have gathered, new ones have come. Katy, Archer, and Luc are alone without their Lux allies. They can't be sure if they are allies anymore as there has been no contact. The world knows that the Lux exist now- how can they not, if there are attacks going on everywhere. Katy finds out that Bethany is pregnant and decides to go for supplies with Archer. This is where she is taken out, by Dawson none the less.
Dee is an evil-she-witch to Katy, who has no clue why. Daemon is indifferent to her and this breaks her heart. There is an origin around that tries to make Katy's life a living hades. What she doesn't know is that with her bestie and boyfriend acting like they are she is already living in her own Hades. Katy has nothing else to lose and boy does that cause the hair on my arms to stand up. She finds out soon enough that with his indifference he is protecting her still, always, and forever.
The invading Lux are bad- as in evil to the core bad and it was interesting to see the earth Lux interact with them. The earth Lux that did not have a human that was bond to them literally got brainwashed. It will take an unlikely ally in order to stop the invaders. It will take the enemy to save loved ones. But can Daemon and Katy convince them to join the cause. Can they literally walk into the enemies lair?
Opposition is a book that you literally speed read to find out how it all ends. There will be no interruptions. There can be no interruptions as you put your life on hold for a few short hours. You have to as the fate of the world depends o
n it. This conclusion to a series is one of the best I have read in a long time.
My Rating
5 out of 5 stars
Favorite Quote
I always had this plan for the off chance I was around for the end of the world. I'd climb up on my roof top, turn up the radio, blast R.E.M.'s It's The End of The World, and watch it all go down from my lofty perch.
Other People
Archer- Ummm this Origin is a HOTTE and boy does he know it.
Luc- This Origin knows a lot, maybe too much.
Dee- she has turned into a total witch, hopes someone knocks some sense into her.