Author
Jaci Burton
Format
e-book
Print Length
304 pages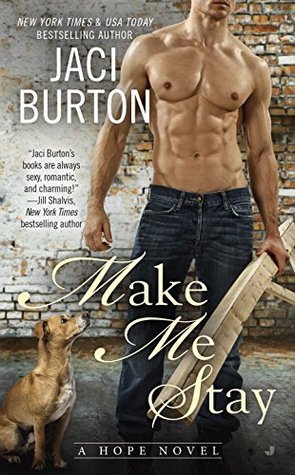 Publisher
Berkley Jove
Published
Dec. 1, 2015
The New York Times bestselling author of Love After All and the Play-by-Play series delivers a new novel about how love sometimes has plans of its own.
Having left his hometown of Hope years ago, only one thing could persuade architect Reid McCormack to come home for a lengthy stay—the challenge of renovating a historic building. But once the job is finished, he'll be headed back to Boston, no matter how much he's drawn to beautiful florist Samantha Reasor.
Samantha watches over her elderly grandmother and pours a piece of herself into every floral creation she designs. Her crush on Reid has been blooming for a while now, but she's reluctant to act on it. A temporary fling isn't what she's looking for, even if Reid is smoking hot and super sexy. She wants a real, permanent, forever kind of love.
Two people with different goals couldn't possibly work, and yet as their attraction grows into something deeper, maybe falling in love is the one thing Samantha and Reid can build a future on.
My Opinion
The McCormack brothers buy a historic building to renovate- Reid comes home to oversee the project. He plans to stay in Hope for a few weeks and then back to Boston he goes. Sam has a bit of a crush on Reid and never really acts on it. Timing has just been off. With him back in town though, they do start to hang out. Maybe love will be involved, maybe lust- who knows.
For some reason I never connected with these two. They just didn't seem like a good fit to me. Both of them were well kinda bland. Neither of them stand out in a crowd. There was no yan to the others yang. I kinda felt like they were both settling for each other because the people around them are in love and moving on to that stage in life where they are building families.
I did feel that they cared for each other but the chemistry wasn't there for me. Some of their conversations felt half forced as well. The story moved along slowly and that could have been the reason I felt that the conversations were awkward. There are moments where both of them are caring and it's cute. Just wish the passion was there.
Make Me Stay is a sweet story, that if you have time and have started the series should check out. There were hints of something going on between Megan and Brady- hopefully the next story in the series.
My Rating
3 out of 5 stars
Favorite Quote
"At the intersection of Love and Denial."
Other People
Grammy Claire-
Sam's grammy
Not My Dog-
Reid's dog
Megan-
Sam's bestie
Brady-
guy that Megan is interested in.