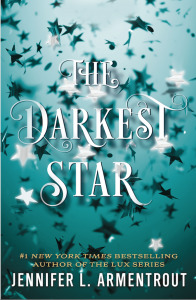 Author
Jennifer L. Armentrout
When seventeen-year-old Evie Dasher is caught up in a raid at a notorious club known as one of the few places where humans and the surviving Luxen can mingle freely, she meets Luc, an unnaturally beautiful guy she initially assumes is a Luxen...but he is in fact something much more powerful. Her growing attraction for Luc will lead her deeper and deeper into a world she'd only heard about, a world where everything she thought she knew will be turned on its head...
#1 New York Times, USA Today, and internationally bestselling author Jennifer L. Armentrout returns to the universe of the Lux in this brand new series, featuring beloved characters both new and old.
My Opinion
The Darkest Star was one of those books that I have been waiting on for a while. Pretty much since right after Opposition ended in 2014 I wanted a spin-off. Specifically, one staring Luc. Luc has always been a favorite side character of mine in the Lux world. So when the announcement was made I was super excited that he was getting his own book.
Luc is a hybrid- Luxen/human mix. He is powerful, arrogant, and well kinda a jerk. To those who know him though he is different. He is protective, loyal and determined. So when Evie meets Luc for the first time let's just say he comes off like a total donkey. Because I had knowledge of him in the previous series, I totally loved his snarky, attitude, and well everything. Evie is interesting in that she is new. Or is she? There is something about her that is familiar and yet not at the same time. She takes finding out some secrets about her life pretty well. Yeah she has her moments of what the what, but she rolls with the punches.
The big baddie in this one is…just wait. The whole thing could have been totally avoided but Luc kinda drops the ball on something. Yeah, totally blaming him as I should. Although, I understand why he did what he did- the scare that Evie goes through and how she finds out things are all on him.
It was nice being back in the Lux world. Yeah this series has a new name Origin yet it still is in the Lux world. Post-Opposition. Seeing how humanity and the Lux are doing now was complete awesomesauce on this spin-off. While you can read this stand-alone, I wouldn't. The Lux series is so good that I would read it first before starting with the spin-off. It was nice seeing some old people, although others were missed.
My Rating
4 out of 5 stars
Favorite Quote
"Sometimes the truth is worse than the lie."
Other People
Heidi- Evie's bestie
Zoe- Evie's bestie
Grayson- Luc's friend
Emery- Luc's friend