Author
Susan Dennard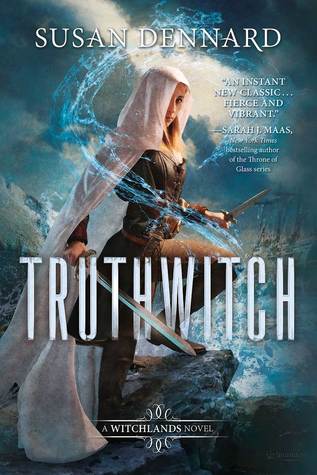 Format
e-book
Print Length
416 pages
Publisher
Tor Teen
Published
Jan. 5, 2016
On a continent ruled by three empires, some are born with a "witchery", a magical skill that sets them apart from others.
In the Witchlands, there are almost as many types of magic as there are ways to get in trouble—as two desperate young women know all too well.
Safiya is a Truthwitch, able to discern truth from lie. It's a powerful magic that many would kill to have on their side, especially amongst the nobility to which Safi was born. So Safi must keep her gift hidden, lest she be used as a pawn in the struggle between empires.
Iseult, a Threadwitch, can see the invisible ties that bind and entangle the lives around her—but she cannot see the bonds that touch her own heart. Her unlikely friendship with Safi has taken her from life as an outcast into one of reckless adventure, where she is a cool, wary balance to Safi's hotheaded impulsiveness.
Safi and Iseult just want to be free to live their own lives, but war is coming to the Witchlands. With the help of the cunning Prince Merik (a Windwitch and ship's captain) and the hindrance of a Bloodwitch bent on revenge, the friends must fight emperors, princes, and mercenaries alike, who will stop at nothing to get their hands on a Truthwitch.
My Opinion
Truthwitch brought me out of my fantasy slump! Not since Robert Jordan's last Wheel of Time book (Knife of Dreams) which released in 2005 have I been so captivated with a fantasy world.
The book starts with Safiya and Iseult, best friends who are also witches. Safiya is a Truthwitch (knows when you are lying) and Iseult is a Threadwitch (sees the ties around people). Both girls rely on their powers yet discover throughout the story that relying too much on their power will get them into trouble. The girls are from different class- Safiya is from the nobility and Iseult is from a nomadic tribe. Yet they become Threadsisters, a bond closer than that of sister or best friends. Safiya is hotheaded and impulsive, Iseult is calm and logical. They balance each other out nicely.
When it is announced that Safiya is to be the new emperess (via a marriage to a horrible man) her uncle and guardians help her flee. Prince Merik, who desperately needs a trade agreement with businessmen agrees to allow them passenger ship on his ship. He is a Windwitch, and does not know that Safiya is the future empress. In her defense she did not know it either, until the announcement.
Not only does the girls have the entire empire looking for them, they kinda upset a blood assassin, Aeduan. Who's main goal now is to kill Iseult and Safiya. Will the girls make it to the port that they are trying to make it to or will the emperor or the blood assassin win?
Safiya is an interesting character. She could have been portrayed as a wow is me I am an orphan with a drunkard as an uncle. She is not. Instead she is portrayed as a girl who knows her worth, believes in her and her Threadsister Iseult. Does she make impulsive decisions? Yes, yet she owns up to them and tries to fix them when they have consequences.
Iseult is also intriguing. She could have been portrayed as wow is me, I am an outcast among outcast. My mother (tribe cleric) chose another to apprentice under her than me. I am not welcomed in my tribe and everyone is mean to me due to my race, Nomatsi. Instead she is the calm, cool, collective one. She knows that she has the ability to do great things. She knows that she has the ability to do even greater things with Safiya by her side.
The characters are all within themselves are interesting, yet combined together with their threads interweaving it is downright spellbinding. Friendship in general is the true reason to read this book. There are a lot of relationships found in the story: Safiya and Iseult, Merick and Safiya, Merick and his Threadbrother Kullen, Merick and his Aunt Evrane, Iseult and Evrane, Iseult and Aeduan, Aeduan and Evrane. Each of them as complex as the next, all of them enchanting.
I wanted to read Truthwitch- I was excited about reading Truthwitch. I was hesitant to read it as well. There was a lot of hype about this book before it released. I have been burned before by books with this much hype. Thank goodness I came away from this book with no soot on me.
Truthwitch met all of my expectations- met them and then exceeded them. The only downside of the story is that the sequel will be out in 12 months instead of 2. The wait may just actually physically hurt a little. What will happen to my favorite Threadsisters? Merik? Aeduan? And of course Evrane?
My Rating
5 out of 5 stars
Favorite Quote
"Trust me as if my soul were yours."
Other People
Merik-
prince of Nubrevna, Windwitch
Aeduan-
Bloodwitch hunting the girls
Evarne-
Merick's aunt, monk
Puppeteer-
a girl, maybe evil…
Empress Vaness-
cares more for her empire than herself