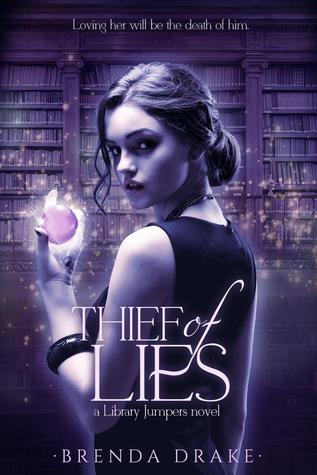 Author
Brenda Drake
Format
e-ARC
Print Length
400 pages
Publisher
Entangled Teen
Published
Jan. 5. 2016
Gia Kearns would rather fight with boys than kiss them. That is, until Arik, a leather clad hottie in the Boston Athenaeum, suddenly disappears. While examining the book of world libraries he abandoned, Gia unwittingly speaks the key that sucks her and her friends into a photograph and transports them into a Paris library, where Arik and his Sentinels—magical knights charged with protecting humans from the creatures traveling across the gateway books—rescue them from a demonic hound.
Jumping into some of the world's most beautiful libraries would be a dream come true for Gia, if she weren't busy resisting her heart or dodging an exiled wizard seeking revenge on both the Mystik and human worlds. Add a French flirt obsessed with Arik and a fling with a young wizard, and Gia must choose between her heart and her head, between Arik's world and her own, before both are destroyed.
My Opinion
Adventure, love, mystery and a little bit of sass, Thief of Lies is everything you could hope for in a book.
Gia and her besties are at a library not just any library but Boston's very own Athenaeum library. A hot guy catches her eye but in a flash he was gone. Gia looking over the book that he was just looking at accidently recites a word that causes her and her friends to jump into a different library half way across the world in the middle of a battle. What in the heck did she just get herself into? Sometimes a hot guy just ain't worth it. Sometimes he is. It is through this jump that she discovers that her birth was prophesized and could mean the end of her kind all together (Gia doesn't know it but she has a lot in common with the Sentinels).
Gia is a character that on the outside shows a lot of confidence, on the inside she is as self-conscience as the rest of us. I think that is why I like her so much, her internal dialog is pretty spot on for what I would have said to myself. She accepts this knew world, and yet questions it at the same time. She holds her head high even when she makes mistakes and is not afraid to say sorry.
Arik, hmmm I know I am suppose to love him. I know that I am suppose to ship them together. Here is the thing though. I don't. I like the other part of the love triangle. You see Sentinels at birth are matched up with their future significant other. Both Arik and Gia have someone they are promised to. Gia of course grew up not knowing this. Arik on the other hand did, and yet he still dates. This kinda turns me off of him. That and he kinda runs like the Katy Perry song Hot and Cold. Now the person that Gia is promised to Bastien, dang is he hot. Plus he understands and still wants Gia to be happy, he is confident in the end that they will be together so he is not threatened by Arik. I want her to end up with him.
Thief of Lies is a great book to start the New Year off with. It will capture the imagination and pull you into the the imaginary world that Drake makes. Not only that but they travel via libraries- every booklovers dream.
My Rating
5 out of 5 stars
Favorite Quote
"In the future, when someone says he fancies you, it's a serious moment."
Other People
Nick-
guy bestie, origin unknown
Afton-
girl bestie, human
Nana- Gia's granny