Author
Alyxandra Harvey
Format
e-ARC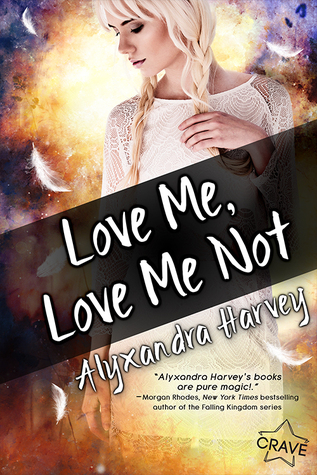 Print Length
211 pages
Publisher
Entangled: Crave
Published
Feb. 22, 2016
Dating isn't easy when you're in the middle of a blood feud.
Anastasia Vila's family can turn into swans, but just once she'd like them to turn into responsible adults.
After hundreds of years, they still cling to the blood feud with the Renard family. No one remembers how it started in the first place—but foxes and swans just don't get along.
Vilas can only transform into their swan shape after they have fallen in love for the first time, but between balancing schoolwork, family obligations, and the escalating blood feud, Ana's got no time for love. The only thing keeping her sane is her best friend, Pierce Kent.
But when Pierce kisses Ana, everything changes.
Is what Pierce feels for her real, or a byproduct of her magic? Can she risk everything for her best friend? And when the family feud spirals out of control, Ana must stop the fight before it takes away everything she loves.
Including, maybe...Pierce.
This Entangled Teen Crave book contains language, violence, and lots of kissing. Warning: it might induce strong feelings of undeniable attraction for your best friend.
My Opinion
Ana was born into a blood feud between shifting families, the Vilas (swans) verse the Renard (foxes) family. As a swan, in order to get her wings Ana has to fall in love. While falling in love may be on everyone else's mind, Ana just wants to graduate high school. She does look for love, and she does have crushes- she is in high school- it just doesn't consume her. The blood feud is getting nasty, and the treaty has been violated. Ana's only save haven has been Pierce. Pierce a human knows what Ana is, he is her best friend. He just also happens to be in love with her. Ana doesn't think the love is real, she thinks her magic is influencing him. It doesn't matter though, because the blood feud takes a turn for the worse. Ana must figure things out before they get out of hand. Pierce is right there by her side.
Things keep happening around town. The Renards are blaming the Vilas. The Vilas are accusing the Renards. No one knows yet but they have a common enemy. I loved the interactions between Ana and Liv. Both trying to be the tough one in their respective families. Both failing. The mystery of what the heck is going on was solid. The bad guy's rational was well logical, I can't say I blame them either.
Ana is such a cute character! She is constantly stepping in when her cousins or her aunts mess up. She wants the treaty to remain and goes out of her way to make sure that both sides are doing what is right. She doesn't whine but instead faces things head on. She is a little afraid to use her magic to influence others, so much so that she tries to avoid people who have been around her when she uses her magic.
Pierce wants to tell her that he loves her. Doing so will change everything, and she is his best friend. He isn't sure how much longer he can stand by and wait for her to fall in love. His little brother Jackson is up to something, something to do with one of Ana's cousin. Pierce knows he has to protect Jackson and Ana. Pierce is such as sweet guy. Rare is it that the sweet guy wins the girl, a fact he knows. I love his belief in Ana and her magic.
Love Me, Love Me Not is an adorable read. It is told in dual point of view, Ana and Pierce. Which I love. Being able to see inside both of their souls enhances the reading experience with this tale. If you had a bad day, or just need a pick me up this is the book for you.
My Rating
4 out of 5 stars
Favorite Quote
"No cupcake is that powerful."

Other People
Edward-
Ana's crush
Liv-
Renard, mean girl
Rosalita-
cousin
Mei Lin-
cousin