Teaser Tuesdays is a weekly bookish meme, hosted by MizB of
Should Be Reading
. Anyone can play along! Just do the following:
• Grab your current read
• Open to a random page
• Share two (2) "teaser" sentences from somewhere on that page
• BE CAREFUL NOT TO INCLUDE SPOILERS! (make sure that what you share doesn't give too much away! You don't want to ruin the book for others!)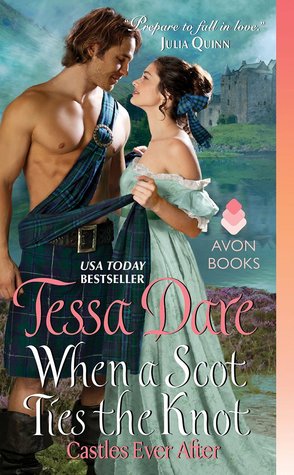 • Share the title & author, too, so that other TT participants can add the book to their TBR Lists if they like your teasers!
"I'm Captain Logan MacKenzie. I received every last one of your missives, and despite your best
attempts to kill me, I am verra much alive."
When A Scot Ties The Knot Kindle Location 486
He leaned forward, capturing that lush, pink mouth in a possessive kiss. She didn't need any coaxing to kiss him back. her lips parted beneath his, and when he slid his tongue deep, her tongue moved forward to welcome his.
When A Scot Ties The Knot Kindle Location 2805
Captain MacKenzie it is such a great surprise to meet you, and boy do you know how to kiss.