Author
Alexandra Ivy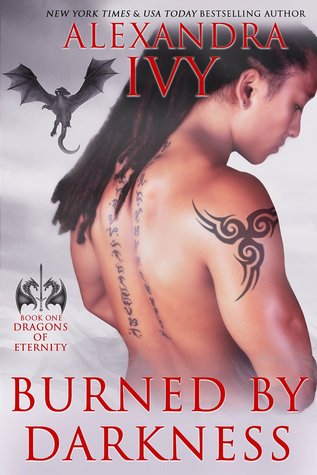 Format
e-book
Print Length
179 pages
Publisher
Deborah Raleigh, LLC
Published
June 30, 2015
The Dragons of Eternity were once creatures of myth and legend. Now they've returned to the world, prepared to claim what's rightfully theirs…
Tayla is desperate for a place to call home. After years on the run, the young imp impulsively buys a teahouse and is determined to build a new life. Unfortunately, she's barely opened the doors when she's tracked down by the dragon who purchased her from troll slave-traders. He demands she pay off her debts…in his harem.
Baine has devoted a quarter of a century to tracking down his beautiful concubine. And now that he has her in his grasp, he's not about to let her go. But it's soon apparent that he isn't the only demon hunting her. He must uncover her secrets or risk losing her forever.
My Opinion
Burned by Darkness starts out with Tayla trying to make a home for herself. She has been on the run for over 20 years, ever since she escaped Baine. Baine bought Tayla from his father and she is his, his precious treasure. His to protect, and she is missing. He has been searching for her since she disappeared. Baine is not the only one that hunts Tayla, he is just the only one that hunts her because he cares for her.
Tayla is interesting. She wants to be independent, she attempts it. As much as she claims she wants to be free, I couldn't buy into it. She flipped flopped between wanting to be with Baine and wanting to be free of him. She was whiney and I just don't do whiney. I didn't really connect with her, which is sad because I so wanted to.
Baine on the other hand I could connect with. Tayla was once his and he lost her. He is a dragon, so he keeps his treasures near to him. Her loss has consumed him, until nothing else mattered. He is sweet and possessive. He is kind and protective. He treats Tayla as an equal and she disdains him for it.
I had high hopes for this one. I adore a different series by this author and was extremely excited for a new one to come out by her. The best part of the story were the scenes with Levet in them- that is one funny gargoyle. Burned by Darkness was an okay read and sometimes that is what you need a book that is just okay.
My Rating
3 stars out of 5
Favorite Quote
"Why would I want some arrogant, pig-headed, ill-mannered male thinking he owns me?"
Other People
Levet-
gargoyle that lives in Tayla's house
Char-
Baine's bestie and a half-dragon