Author
Ilona Andrews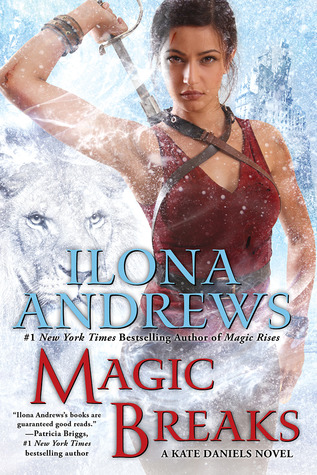 Format
e-book
Print Length
348 pages
Publisher
Ace Hardcover
Published
July 29, 2014
No matter how much the paranormal politics of Atlanta change, one thing always remains the same: if there's trouble, Kate Daniels will be in the middle of it…
As the mate of the Beast Lord, Curran, former mercenary Kate Daniels has more responsibilities than it seems possible to juggle. Not only is she still struggling to keep her investigative business afloat, she must now deal with the affairs of the pack, including preparing her people for attack from Roland, a cruel ancient being with god-like powers. Since Kate's connection to Roland has come out into the open, no one is safe—especially those closest to Kate.
As Roland's long shadow looms ever nearer, Kate is called to attend the Conclave, a gathering of the leaders from the various supernatural factions in Atlanta. When one of the Masters of the Dead is found murdered there, apparently at the hands of a shapeshifter, Kate is given only twenty-four hours to hunt down the killer. And this time, if she fails, she'll find herself embroiled in a war which could destroy everything she holds dear…
My Opinion
At the beginning of the book, Curran Kate's mate gets called away. Since Kate is his mate, she must take his place at the Conclave. While there, the Pack is accused of killing on of the Masters of the Dead. Kate knows that this is a set up by Hugh, her daddy's lackey. Not only does she have to prove it to the Conclave but there is grumbling in with the wolves, some thinking that Jennifer doesn't have what it takes to be Alpha. This of course has been going on since Desandra came to live with the Pack. It doesn't help that Desandra is now Jennifer's beta. Kate ends up making sure that there is not a supernatural war, unfortunately she of course disappears. Curran wants her back and will do what it takes to insure his love is safe, moving Heaven and Hell to get to her.
Kate has grown over the last seven books. She no longer jumps in feet first, instead she observes and then acts. Curran and her bodyguards have taught her diplomacy- at least a little. Supernatural politics is now natural for her to recognize. This is a side of her that is pretty awesome to see.
Curran's devotion to Kate is pretty amazing. Everyone and their momma is telling him to give her up, not to go looking for her and he does anyways. He supports her regardless of the situation- just as a mate should.
Kate's meetings with Roland are enlightening. As are those who are in favor her and Curran. The deal they make in the end with Roland to save their city- woowziers! Talk about a game changer. I am liking it and cannot wait till the next one is released so I can once again step into Kate's world.
My Rating
4 stars out of 5
Favorite Quote
"You've maxed out your wit quota for the night."
Other People
Derek-
wolf shifter, Kate's trusty side-kick
Jennifer-
Alpha of the wolfs
Ascanio-
bouda shifter, Kate's intern
Andrea-
Kate's bestie
Barabas-
pack lawyer and advisor to the Kate
Ghastek-
Master of the Dead