Author
Tessa Dare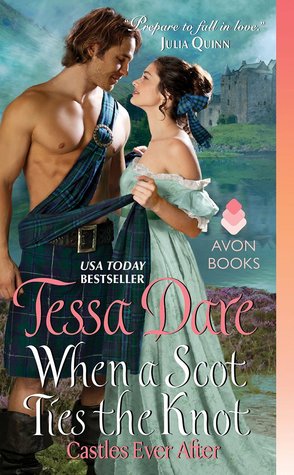 Format
E-ARC
Print Length
384 pages
Publisher
Avon
Published
August 25, 2015
On the cusp of her first London season, Miss Madeline Gracechurch was shyly pretty and talented with a drawing pencil, but hopelessly awkward with gentlemen. She was certain to be a dismal failure on the London marriage mart. So Maddie did what generations of shy, awkward young ladies have done: she invented a sweetheart.
A Scottish sweetheart. One who was handsome and honorable and devoted to her, but conveniently never around. Maddie poured her heart into writing the imaginary Captain MacKenzie letter after letter … and by pretending to be devastated when he was (not really) killed in battle, she managed to avoid the pressures of London society entirely.
Until years later, when this kilted Highland lover of her imaginings shows up in the flesh. The real Captain Logan MacKenzie arrives on her doorstep—handsome as anything, but not entirely honorable. He's wounded, jaded, in possession of her letters… and ready to make good on every promise Maddie never expected to keep.
My Opinion
It has been so long since I have read a Historical Romance novel. They were my first books, my first loves and then like many first loves- I moved on. Not to bigger or better loves just different loves. That is until I saw the blurb for this one and thought hmm... maybe I should go back to my first love again. Boy am I glad I did.
Madeline really did not want a season, she really did not want to come out, she really did not want to go to parties. One day under pressure to like all things related to the upcoming season, Madeline kinda-accidently says out loud that she didn't need one…because she already met someone. A love captain in the army, who loves her and asked her to marry him. She wrote to him every month. This captain protected her for years five from the pressure of a season- and then she promptly kills him. Why not he is imaginary? Once he is died she goes into mourning for another five years. Putting her promptly on the shelf, and since she had a castle she didn't need a man in her life. She was content to live out her life as a spinster. Until he shows up- the Captain shows up at her castle.
Maddie is adorable. She takes her career as an illustrator of nature serious. Often locked in her tower of a workshop drawing away. She is tender-hearted her spinster Aunt Thea lives with her. Sure, she would like a family of her own but has resigned herself to spinsterhood. She knows her limitations- crowds, people just aren't her thing. She knows that making up an intended is wrong but honestly, he isn't real so the only person that it hurts is her.
Captain Logan though is real- and he has a lot of responsibilities. He promised his men that he would see them home safely back to the Highlands. When they got here though things weren't safe, families were torn apart, loves lost. He has honor though, a man of his word- he will protect his men the only way that he can. He knows he is in the wrong with making Maddie follow through with all the things she promised in her letters to a made-up love. Those letters though, they had a greater impact on him than Maddie knows.
I love how Captain Logan is determined to protect his men. I love how his protectiveness will extend to Aunt Thea and Maddie. He is a man burdened in more ways than one. I like how he manipulates Maddie into marriage- yes, manipulates her. What is good for the goose is good for the gander. I like how he seduces her, without trying- because he knows her. Five years of her inner most thoughts will do that to a person. I like even more his reaction to his untimely death, wowziers.
I loved this love story. Captain Logan is perfect for Maddie and Maddie is perfect for him. They may fight it, keeping secrets from each other but dang is the chemistry H-O-T-T. If you want to be taken away to a land where the men sweep you off of your feet this is the book for you.
My Rating
5 out of 5 stars
Favorite Quote
"I love you to the point of madness."
Other People
Aunt Thea-
Maddie's spinster aunt
Callum-
one of Logan's men
Rabbie-
one of Logan's men
Lord Varleigh-
interested in Maddie's illustrations