Author
Dianne Duvall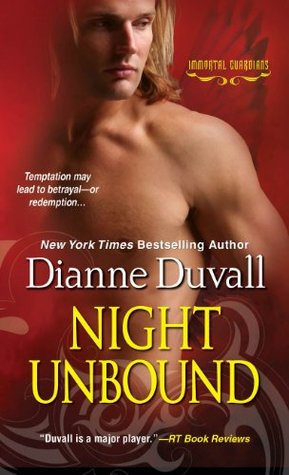 Format
e-book
Print Length
432 pages
Publisher
Zebra
Published
September 2, 2014
Dianne Duvall's Immortal Guardians protect humanity from unspeakable horrors--but their hearts are as fragile as any mortal's. . .
For centuries, Lisette d'Alençon has been a warrior against the dark. She fights alongside her brothers and comrades. But when the dreams start coming, she can't bear to confess them to the Immortal Guardians' command. Dreams of a dark-haired man with soft eyes and brutal wounds, a man her heart aches for--and a man she knows has been declared a traitor.
Zach is an exile, a loner. He won't defend himself against false accusations or grovel to those who should have faith in him. But he'll damn sure defend the woman who kept him sane against a plague of super-vamps that seems to have appeared from nowhere. The Guardians will blame him, and that will make Lisette suspect, too. With life, death and eternity on the line, who can they really trust?
My Opinion
Lisette has had a hard life- her husband turned her into an immortal one. Once her brothers found out they offered their blood so that others would not know. This accidently turns them into immortal ones as well. Lisette has a lot of guilt and shame because of this. Zach is part of the Others, a group of observing individuals who do not offer help to the Immortal Guardians. Yet, Zach does once and is tortured for it. As an observer he had watched over Lisette, and it is her image that keeps him from giving into the torture. The super-vamps are showing up again and Lisette is in danger. Zach will do whatever it takes to keep her save, even getting involved. Some of the Guardians think he is the one that is creating the super-Vamps. It is up to them both to prove that it is not them who are trying to take out the Guardians.
Lisette is a strong woman, who knows what she wants. She feels a lot of guilt- guilt for her husband, her brothers and now for Zach. Her leader has warned her away from him but she cannot listen to those orders. There is something about him that draws her to him. Zach is bitter, the torture and mistrust that one of his oldest friends has of him is weighing heavily on him. The only thing that keeps him going is his feelings for Lisette. The chemistry between these two is smoking hot. The threat of the super-vamps doesn't even stop them from being together.
My favorite thing about this one though is finding out more about Seth. As their leader, he is so caring and careful with his people. He wants them to be happy and protected. At times I could not help but wonder when he and David would get their happily-ever-afters.
Night Unbound will make your heart race as the Immortal Guardians fight off the newest threat. You will cheer on Lisette and Zach all the while silently wondering if Seth is right. I mean he rarely is wrong. If you liked the first four books, you will love this one. You will get snippets of the others and how they are doing which for me is a fabulous thing.
My Rating
4 out of 5 stars
Favorite Quote
"Someone always trusts where he or she shouldn't."
Other People
Ethan-
American Immortal, Lisette was his mentor
Aidan-
lonely Immortal
Cliff-
reformed vampire