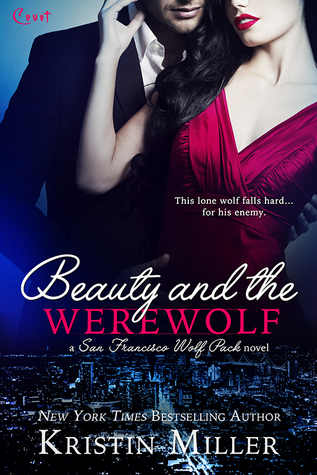 Author
Kristin Miller
Publisher
Entangled:Covet
Published
August 25, 2015
This lone wolf falls hard...for his enemy.
Unmated werewolves don't normally live past three hundred years old...and billionaire Jack MacGrath is cutting it close. Sure, he has almost everything-the respect of his peers, a mansion in San Francisco, a private jet, and fast cars. But without a mate, Jack's in trouble. Then he sees her. Gorgeous, proud...and his enemy.
Isabelle Connelly is good at hiding things from her father. Like her success as a painter, or the incredibly intense attraction she has to Jack MacGrath. After all, she's royalty and falling for anyone lesser-to say nothing of a rival pack-would be, er, unseemly. Now she must choose between her duty to her family and her pack...or her perfect fated mate.
My Opinion
For over three hundred years Jack has looked for his Luminary…fated mate. He hasn't found her and time is no longer on his side. He has to keep looking for ways to up his adrenaline as he continues the quest. He has pretty much accepted that he will not find her. So for now he just finds ways to cheat death. His only peace comes when he stares upon a painting from his favorite artist, Bella Nolan. Which is how he meets Isabelle- they get into a bidding war over a painting.
Isabelle is the daughter to an alpha wolf in Irish Wolf Pack. She is slated to take over the pack once her father dies- which will be soon. Dad is sick with not much time left; Isabelle wants his approval to continue painting before he passes away. She is actually really good and has made a lot of money off of her paintings. Daddy of course has already voiced his opinion on the matter but she thinks she could change his mind. She has a brilliant idea that if she gets all of her paintings together in one place and show him them that he will approve of her.
Isabelle is really attracted to Jack but she keeps fighting it. Jack knows that she is his Luminary but is not sure how to convince her. He has a huge collection of her paintings though, the same ones she is trying to round up to surprise her dad. He uses them to get her to spend more time with him. He finally has her convinced that she is his fated mate when she gets called him back to Ireland.
I adored Jack in this one. He is strong, sweet and well honestly really adorable. Isabelle and I had a few issues. I don't like how she leaves Jack when she knows he is dying (if you don't find your mate by 300 years, you pretty much die- Jack really has been cheating death). So for her to leave him even to go see her dad was a hard pill to swallow for me. He is suppose to be her destiny, without him she will die as well.
Then throw in the added twist that Jack and Isabelle's family are feuding. So much so that once her daddy finds out she met her mate. Her Luminary, instead of being happy he acts extremely un-daddy like. This grated on my nerves just a little- I understand I do, but still she is your daughter man!
Beauty and the Werewolf is a sweet tale. Jack will melt your heart and while there will be times that you want to shake Isabelle really hard you may grow to like her.
My Rating
3 out of 5 stars
Favorite Quote
I already told you I'll pay to replace your Monument of Manhood.
Other People
Branson- Jack's butler and best friend
Jasmine- another one of Jack's friends
Neil- Isabelle's friend