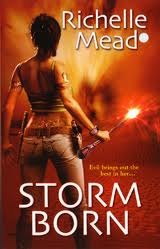 Author
Richelle Mead
Format
e-book
Print Length
361 pages
Publisher
Zebra
Published
August 1, 2008
Just typical. No love life to speak of for months, then all at once, every horny creature in the Otherworld wants to get in your pants...
Eugenie Markham is a powerful shaman who does a brisk trade banishing spirits and fey who cross into the mortal world. Mercenary, yes, but a girl's got to eat. Her most recent case, however, is enough to ruin her appetite. Hired to find a teenager who has been taken to the Otherworld, Eugenie comes face to face with a startling prophecy—one that uncovers dark secrets about her past and claims that Eugenie's first-born will threaten the future of the world as she knows it.
Now Eugenie is a hot target for every ambitious demon and Otherworldy ne'er-do-well, and the ones who don't want to knock her up want her dead. Eugenie handles a Glock as smoothly as she wields a wand, but she needs some formidable allies for a job like this. She finds them in Dorian, a seductive fairy king with a taste for bondage, and Kiyo, a gorgeous shape-shifter who redefines animal attraction. But with enemies growing bolder and time running out, Eugenie realizes that the greatest danger is yet to come, and it lies in the dark powers that are stirring to life within her...
My Opinion
When there's something strange and unexplained going on call Odile Dark Swan. She just so happens to be a shaman, with a great track record. And so Storm Born begins, with Odile/Eugenie tracking down a missing child. She ends up having to go to the Otherworld, the land of fairies.
There she finds many that want to kill her and some that want to mate with her due to a prophecy. Her bio-daddy was evil, having enslaved her momma to get her with child (Eugenie). Her step-daddy rescues her momma and helps to raise Eugenie as his own. So Eugenie knows nothing about her "legacy". Or the prophecy that involves her child and the end of the human world as we know it. Once she discovers that her daddy was evil she also learns that Aeson (another evil fae king) has the girl, Jasmine, that she is looking for.
Along the way two guys come into the picture- Kiyo (shapeshifter) and Dorian (fae king). Both have intentions towards her, yet neither are pure. The question is who will she pick. There are going to be team Kiyo and team Dorian folks. I am team Tim. Eugenie's roomie isn't fake, no hidden agenda. Plus, even though he is a player, he is honest about it.
Eugenie is a strong heroine, yet there is something about her that rubbed me the wrong way. Maybe it was her judgement of the fae. Or is could be her wishy-washy ways with the two guys. Or maybe it was just her personality, it really grated on my nerves.
Storm Born is an unique start to a series. Not too sure where it is going, but for now I want to find out.
My Rating
3 out of 5 stars
Favorite Quote
"Sometimes I thought internet access was like putting guns in the hands of toddlers."
Other People
Dorian-
mentor, fae King
Kiyo-
shapeshifter, love interest
Volusian-
demon attached to Eugenie
Tim-
roomie