Author
Diane Alberts
Format
e-book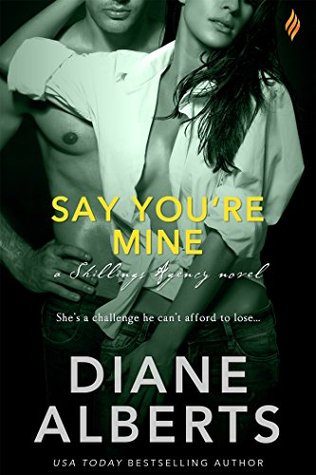 Print Length
181 pages
Publisher
Entangled: Brazen
Published
Dec. 7th 2015
A sexy category romance from Entangled's Brazen imprint...
She's a challenge he can't afford to lose...
Navy SEAL Steven Thomas has only ever been able to count on three things: waking up in the morning, going to sleep sometime during the night, and Lauren Brixton. She's been his best friend since grade school, and what they have is the only relationship he's managed not to ruin.
Until one drunken night puts that all in jeopardy.
Lauren's watched Steven flit from one-night stand to one-night stand, seemingly not interested in something more. So when the long-ignored attraction between the two of them blows up in their faces, she does the only thing she can-she pretends she doesn't want him. But all's fair in love and war, and Steven's not about to lose the only person in his life who matters...
My Opinion
Say You're Mine is one of those stories where you want to love the main character and her hero but half the time you end up yelling at them. Or at least I did.
Steven is an ex-Navy Seal coming to terms with what he saw and did overseas. There was a particularly he has a lot of survival remorse. There was this one battle that weighs on his mind more than others and has made him despise lying of any sort. He counts leaving stuff out as lying, y'all. Most of the time I wanted to hug him, he needs more hugs in life.
Lauren is ready to provide those hugs, and not just one a friendly terms. For 20 years, Steven is who any guy that seemed remotely interested in her had to measure up to. She has found them all lacking. She gets scared one night, and calls Steven over. Before he shows up, she realized what scared her- but she keeps it from Steven hoping to get him to stop drinking and sulking. All of their friends and Lauren are worried about him.
The chemistry between these two are off the charts. Maybe it is because they are besties but dang do they make one HOT couple. They also are a couple that could cause a heat wave when they are together. The issue that arises is more a lack of communication problem- one that many would see as a huh? I grew up in a military town, to a military family so I get it. I don't think that Steven overreacted too much. A little bit yeah, but his rational for it is solid. I can't fault him for it. Lauren's reaction to his reaction I also understand and could agree with especially after what she sees.
Sometimes I wanted to shake Steven, other times I wanted to cheer him on. I liked that he stood his ground even over something that many would trivialize. I wanted to hold Lauren's hand and tell her it would be okay. I also wanted to say gal if you are this worked up over his supposed reaction, then be prepared because it will probably be ten times worse.
I adore friends to lover stories. Say You're Mine has just the right level of hotness, sarcasm, and love to make you sigh when you are finished. Honey, y'all just need to read this one.
My Rating
4 out of 5 stars
Favorite Quote
"You're already my person."
Other People
Daisy-
Lauren's friend
Holt-
Lydia's hubby
Lydia-
Steven's sister