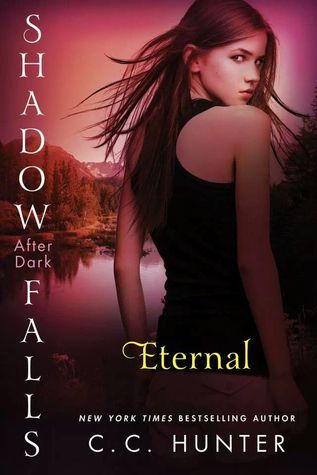 Author CC Hunter
Format e-ARC
Print Length 400 pages
Publisher St. Martin's Griffin
Published October 28, 2014
All her life, Della's secret powers have made her feel separated from her human family. Now, she's where she belongs, at Shadow Falls. With the help of her best friends Kylie and Miranda, she'll try to prove herself in the paranormal world as an investigator—all the while trying to figure out her own heart. Should she chose Chase, a powerful vampire with whom she shares a special bond? Or Steve, the hot shapeshifter whose kisses make her weak in the knees? When a person with dark connection to her past shows up, it'll help her decide which guy to choose–and make her question everything she knows about herself.
From bestselling author C.C. Hunter comes Eternal—a must-read for fans of the Shadow Falls series—and the sequel to Reborn.
My Opinion
Fantastic read! Eternal jumps right in where Reborn ends. Della and Steve are dealing with the ramifications of him agreeing to save Della's life the only way possible- by bonding her with Chase. What does that mean? Will it end their relationship or strengthen it?
Seeing Della and Chase's bond is difficult for Steve, so in order for her to be able to find her way through the bond he takes the high road. He gives her and Chase the space they need to explore their bond. This makes me an unhappy camper- but hey who knows maybe in the next book he will swoop in and save the day. He has a few times before, like in Saved at Sunrise. It could happen.
There is a new ghost in town, man are they bugging Della. Which is weird since ghost are normally Kylie's department. All of the ghost that are attuned to Della are for a reason though. This ghost reveals some stuff from her daddy's past. He was not always prim and proper. What gets revealed is pretty interesting and I cannot wait for the final book to be released. What happens to daddy dearest? My money is on Della saving his bottom but you could put yours on her letting him hang out to dry if you wanna.
Chase and Della are partnered together due to their bond on a new case. One that Della's ghost is adamant about her solving sooner rather than later. Della's ghost has some attitude, which kinda reminded me of Della. Spunky ghost pushes her and Chase in the right direction. I just hate that it had to be Chase. Chase for his part is playing the role of the gentleman- I am not buying it though. He is shady even if no one else sees it. Do they find the missing couple in time? Who took them and why? Will the ghost ever go away? Will Della wake up and love Steve as much as I do?
If you are looking for a book that has strong female lead, snark and some romance Eternal is the book for you!
My Rating
5 out of 5 stars
Favorite Quote
"I don't want to be someone's second anymore."
Other People
Kylie-
one of Della's roommates and bestie- chameleon
Miranda-
Della's other roommate and bestie- witch
Burnett-
FRU agent, Della's mentor- vampire