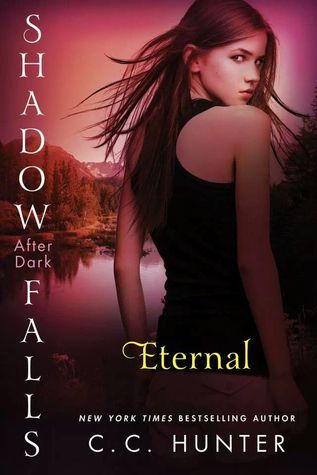 CC Hunter just released some teasers for Eternal the next book in the Shadow Falls After Dark series.
Never drive ninety miles an hour in a forty mile an hour speed-limit area.
When it snows inside your bedroom, something spooky is going on.
Breaking and entering isn't nearly as much fun as you would think it would be. Especially when you are seconds from being caught.
Riding in a convertible with the wind in your hair is almost as good as flying.
Taking ice cream away from a girl suffering from a broken heart, might get you turned into a kangaroo with pimples.
Blurb
All her life, Della's secret powers have made her feel separated from her human family. Now, she's where she belongs, at Shadow Falls. With the help of her best friends Kylie and Miranda, she'll try to prove herself in the paranormal world as an investigator—all the while trying to figure out her own heart. Should she chose Chase, a powerful vampire with whom she shares a special bond? Or Steve, the hot shapeshifter whose kisses make her weak in the knees? When a person with dark connection to her past shows up, it'll help her decide which guy to choose–and make her question everything she knows about herself.
From bestselling author C.C. Hunter comes Eternal—a must-read for fans of the Shadow Falls series—and the sequel to Reborn.
Release Date: October 28, 2014
My first thoughts are why are they speeding? Umm snow in a room does not sound good. Please don't get caught. Not really into the hair flying everywhere thing. Why oh why would you take away ice cream from Miranda? Wait a second what the heck- why does Miranda have a broken heart? I don't know about y'all but October cannot get here fast enough!