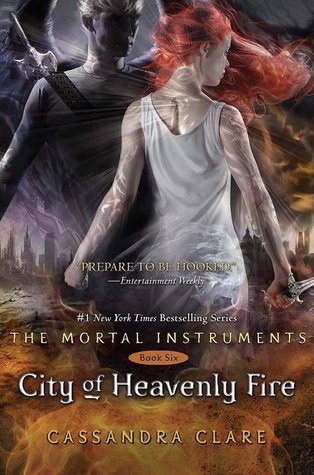 Author Cassandra Clare
Format e-Book
Print Length 725 pages
Publisher Margaret K. McElderry
Published May 27, 2014
In this dazzling and long-awaited conclusion to the acclaimed Mortal Instruments series, Clary and her friends fight the greatest evil they have ever faced: Clary's own brother.
Sebastian Morgenstern is on the move, systematically turning Shadowhunter against Shadowhunter. Bearing the Infernal Cup, he transforms Shadowhunters into creatures out of nightmare, tearing apart families and lovers as the ranks of his Endarkened army swell.
The embattled Shadowhunters withdraw to Idris - but not even the famed demon towers of Alicante can keep Sebastian at bay. And with the Nephilim trapped in Idris, who will guard the world against demons?
When one of the greatest betrayals the Nephilim have ever known is revealed, Clary, Jace, Isabelle, Simon, and Alec must flee - even if their journey takes them deep into the demon realms, where no Shadowhunter has set foot before, and from which no human being has ever returned...
Love will be sacrificed and lives lost in the terrible battle for the fate of the word in the thrilling final installment of the classic urban fantasy series The Mortal Instruments!
My Opinion
I will be honest- I was reluctant to read this one. I felt that the first three books ended perfectly wrapping everything up and so when the series continued I was not really that happy about it. So much so that I put the fourth book down half way through it and decided to wait to read the rest of it and the fifth book until this one was out. The fourth book annoyed me a lot. The fifth book started to bring the butterflies back. The sixth book, this book literally hit things out of the ball park. Talk about coming full circle.
Not only does Cassandra Clare end one series she literally sets the stage for a new one, The Dark Artifices. Emma and Julian are threaded throughout this book and I am extremely excited for their story to unfold in 2015.
Clary and the gang are trying yet again to stop Sebastian this time from creating an army of Endarkened- Shadowhunters with demon blood in them. These are some kick butt fighters with no soul. It takes a while for the grown-ups to realize that you cannot bring back an Endarkened. Once they go to the darkside they have to die, which is hard for the adults to accept as these are their friends, family and in some cases even their spouse or children. Sebastian is not only attacking the Shadowhunters instead he is attacking all Downworlders who are not his allies. Let's be honest, who really thinks his allies are safe?
People will die, people we have come to trust, love and cheer for. Their deaths will be pointless, and yet I can see how their deaths were meant to be. In war, not everyone will survive. In war, not all loves will survive. In war, anything goes. Sebastian has started a war.
City of Heavenly Fire brings all the feels- giddiness, laughter, tears and shock. Let's not forget anger and maybe a few bad words directed a character or two. Once you get to the last page, you will be satisfied.
My Rating

5 out of 5 stars
Favorite Quote
Forever does not make loss forgettable, only bearable.
Other People
Alec-
Jace's bestie
Magnus-
Warlock, Alec's ex-boyfriend
Isabell-
Alec's sister, Simon's quesa-girlfriend
Simon-
Clary's bestie, who is a vampire