Author
CC Hunter
Format
ARC
Print Length
416 pages
Publisher
St. Martin's Press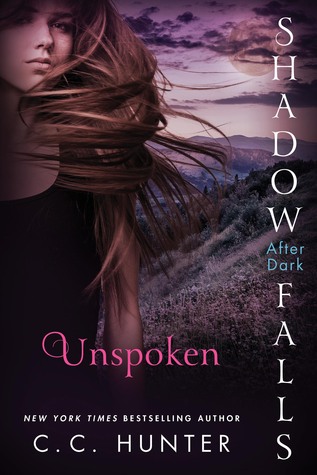 Published
Oct. 27, 2015
Despite her superhuman strength and enhanced senses, Della Tsang's life as a vampire certainly hasn't been easy. Especially since she was reborn and bound to the mysterious, infuriating, and gorgeous Chase Tallman.
But if there's one thing that's always kept Della going, it's her dream of being an elite paranormal investigator. Her newest case is the opportunity she's been waiting for, but as Della tries to solve the twenty year old murder and clear her father's name. She uncovers secrets about the vampire council. And about Chase.
Feeling betrayed by all the secrets he's kept hidden from her, Della is determined to keep him as far away from her heart as she can. But she'll need his help to solve the case that will lead them into the darkest and ugliest vampire gangs in town and into the scariest reaches of her heart.
My Opinion
There really are no words to describe how good Unspoken is. C.C. Hunter has done it again, what a fantastic way to end a series.
Unspoken picks up where Eternal left off. Della's daddy is accused of murdering his sister. Her aunt's ghost is stalking her looking for answers. She still hasn't decided between Chase (yuck) or Steve (yeah). Team Steve all the way! Which is in part why both guys are not with her at the beginning of the story. This doesn't last for long though. Chase decides he needs to win Della back so he resigns from the council and applies to the FRU. Talk about changing his tune. Steve's training is over and he returns from Paris. Both want to be there for Della, only time will tell which way she chooses.
Through the course of the series, Della has grown immensely. While she has always had a backbone, she was rarely a risk-taker. While she was always a loyal friend, she knows that her friends will stand by her now too. She realizes that she is not alone, regardless of what she thought. She was always fiery, now though she knows how to use it to her advantage. It is rare that you see this much character development in a series. It is also one of the reasons I love reading CC Hunter books.
The storyline is well developed in this book, my only complaint is that we rarely say the terrific trio together. Della was so focused on finding the real murderer and her boy troubles that it was hard to make times for her friends. Kylie and Lucas' relationship is touched upon, only briefly. Miranda has choices to make of her own- there is no resolution to this. (Hopefully, fingers crossed, Miranda will get her own three book spin-off series.) When the girls are together their love and concern for each other shine brightly, as does their honesty. There is also a moment in the book where you get to see Holiday's devotion to Della- talk about hardcore.
As there are two teams out there I will not discuss the love triangle as an angle, instead I will mention each guy individually apart from Della. Chase has good intentions, except the saying goes the road to ….. Steve is as sweet as ever, maybe a little too sweet as the saying goes too much of a good thing… I do like that both guys have Della's best interest at heart. Both guys care for Della, the question really is which one does her heart want? Only Della knows the answer to that- even if she tries to avoid it as much as possible.
The chase to find the true killer and to clear Della's daddy's name is thrilling. The excitement that this storyline brings to the table is different from the rest of the series. The question that weighed heavily on my mind though was "does her daddy deserve to be saved?" He treats Della horribly for the majority of both series. There will be resolution to this, however I am not sure I can forgive someone who makes their daughter believe they are a monster.
Unspoken is the final book in the Shadow Falls After Dark series. The series ends how all series end, with resolution. It also leaves an opening for a spin-off of Miranda's story if that is where CC Hunter wants to take it.
My Rating
5 out of 5 stars
Favorite Quote
Don't listen to me! Never listen to me! Never, Never, Never!
Other People
Miranda-
roomie, bestie, witch
Kylie-
roomie, bestie, chameleon
Burnett-
mentor, FRU agent