Author
Jennifer L. Armentrout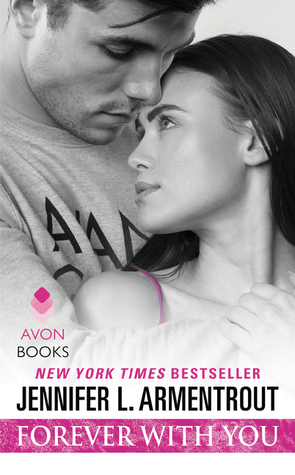 Format
e-book
Print Length
Sept. 29, 2015
Publisher
Avon
Published
September 29, 2015
In the irresistibly sexy series from #1 New York Times bestselling author Jennifer L. Armentrout, two free spirits find their lives changed by a one-night stand…
Some things you just believe in, even if you've never experienced them. For Stephanie, that list includes love. It's out there. Somewhere. Eventually. Meanwhile she's got her job at the mixed martial arts training center and hot flings with gorgeous, temporary guys like Nick. Then a secret brings them closer, opening Steph's eyes to a future she never knew she wanted—until tragedy rips it away.
Nick's self-assured surface shields a past no one needs to know about. His mind-blowing connection with Steph changes all that. As fast as he's knocking down the walls that have kept him commitment-free, she's building them up again, determined to keep the hurt—and Nick—out. But he can't walk away. Not when she's the only one who's ever made him wish for forever . . .
My Opinion
If you want to feel all the feels read this book. It will make you laugh out loud, want to yell stop being stupid and of course ugly cry. It tackles some issues that most books do not. It goes where most authors are afraid to go. It takes the reader on an emotional roller coaster of highs and lows. In the end, you will completely satisfied.
Nick is one of my favorite guy characters in the Wait for Me series. Regardless of who the girl belongs to in the end, he is always protective of them. Calla especially, we actually find out why in this book. It makes total sense. Nick is a player, though. A different woman every month if not week. All of them with the understanding that they do not visit him at work. He doesn't have to tell them this rule, it is what it is. Imagine his surprise with Stephanie walks into the bar. Nick is not a character that grows for me. He is what he is- pretty amazing. He does pretty much what I expected him to do based on his actions in previous books. My heart breaks for him and it is Stephanie's fault. Yet, Katie did warn him. When will they take her predictions seriously?
Stephanie went to school with Cam and Jase. She was part of their group but on the outside- pretty much no galfriends because well, she is gorgeous. She also is not afraid to take what she needs, no strings attached and gals tend to be judgmental about this. Stephanie starts out self-assured and pretty confident. Then emotions get involved- emo
tions jacked up like they were on steroids and this erodes some of her confidence.
A tragic event occurs. How these two handle it are pretty spot on with how others have handled it. One cannot help but wonder if Mrs. Armentrout is writing about the real life adventures of her friends. She is that good at bring out the human emotions in the story. My heart breaks for Nick and Stephanie. Yet, at the end there is hope. Which is seriously, all we can wish for.
Read this series! Read it in series order or you may be confused. Read it for the emotions that it brings out in the reader. Read it for personal growth. Read it for curiosity- just read it.
My Rating
5 out of 5 stars
Favorite Quote
"That you and I are the way we are. It's a damn shame."
Other People
Roxy-
favorite character in the series, befriends Stephanie
Jax-
owner of the bar
Katie-
stripper, psychic friend