Author
Victoria Davies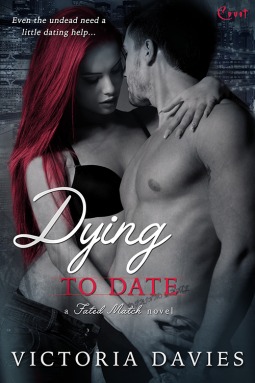 Format
e Book
Print Length
216 pages
Publisher
Entangled Publishing, LLC
Published
June 23, 2015
Vampire socialite Melissa Redgrave has the worst luck with men. Frustrated, she decides what she needs is a little help...from New York's biggest supernatural dating agency. Except that sometimes, a vampire doesn't always find her match.
Until she does. And he's delicious enough to bite.
Tarian Drake keeps his necromancy background quiet. After all, the ability to control the dead isn't exactly welcomed in the supernatural community. When he runs into the beautiful Melissa, she tempts him in a way that has never happened before. She's his perfect match in every way.
But just as they are about to take their relationship to the next level, his family decides to make a stand—by kidnapping his new girlfriend. Now, if he ever hopes to date again, he's going to have to get control of his family and free the girl. Oh, and stop a war.
My Opinion
We were introduced to Melissa in Love at Stake. She is a vampire in search of her mate. The only problem is no one matches up with her. That's right! She is finally able to sign up for the dating service but no one is even coming close to matching her. A chance meeting of Tarian in the lobby though has her wanting a date with him. He is game for a date with her as well. Too bad no one knows what kinda supernatural he is.
Necromancers have been persecuted to the brink of extinction. Tarian is not about to announce on a dating service that he is on. Knowing who Melissa's daddy is doesn't deter him from asking her out. The attraction is instant. Yet, he refuses to give into attraction alone. He is truly after his mate.
There are some necromancers who believe that their persecution is not warranted. Some who would do anything to get back into the supernatural community. Exile is just not for them. They want the vampire council to listen so they still Melissa- after all her daddy is on the council. Tarian rescues her- and gives her up to avoid another supernatural war.
Melissa at times got on my nerves, she was more of a woow is me gal in this tale. Last book she rocked of awesomeness. While she still can take care of herself, I got annoyed with her inner dialog. When Tarian tries to do the good thing, the best for the whole world thing, she gets mad at him. When Lucian tries to protect her, she resents him.
Tarian is truly swoon worthy. He wants to protect Melissa, his sister and all necromancers. He knows what war does to the supernatural community and to the human community.
Dying to Date is a fun fast read. It will have you laughing one minute and shaking your head the next.
My Rating
3 out of 5 stars
Favorite Quote
"All the fun of a human with the durability and lifespan of an immortal."
Other People
Lucian-
Melissa's vampire daddy
Abbey-
Lucian's human mate
Eilin-
Tarian's sister
Dominic-
Tarian's grandfather