Author
Kate SeRine
Format
e-ARC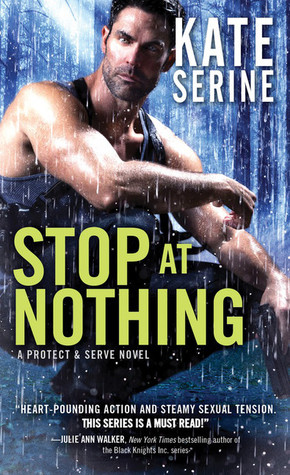 Print Length
352 pages
Publisher
Sourcebooks Casablanca
Published
November 3, 2015
When a high-profile investigation goes wrong, FBI Agent Kyle Dawson is transferred back home where he is forced to confront his demons…and the only woman he ever loved. Three years ago, Kyle and Abby Morrow shared a wild, passionate summer—then Abby broke his heart.
NOW SHE NEEDS HIS HELP
Kyle never stopped loving Abby. So when Abby uncovers evidence of a human-trafficking ring, leading to her sister's kidnapping, he swears he'll stop at nothing to bring her sister home and keep Abby safe. Caught in a lethal game of cat and mouse and blindsided by their own explosive desires, they must set aside the past before it's too late.
Series reading order:
"Torn" (Protect & Serve #0.5 in WAY OF THE WARRIOR anthology)
Stop at Nothing (Protect & Serve #1)
My Opinion
Page turning romantic suspense that will have you forgetting to do anything else until you reach the very end.
If you read Torn in the Way of the Warrior, then you were introduced to the Dawson family. Stop at Nothing is the first full length book in the series. It is about Kyle, the baby and black sheep in the family. Black sheep may be going a little overboard as his sheepiness is him joining the FBI instead of being a deputy in their hometown, where their daddy is a sheriff. When Kyle gets into some trouble at the Bureau they know the right punishment- send him back home.
Abby, Kyle's ex is in some trouble. She is also a deputy, one who specializes in digital investigations. She is great with computers, so great in fact that she uncovers a human-trafficking ring. Now the head huncho wants her dead and his information back. To do this he has her sister kidnapped, under threat of death. Abby has to race to find her in time, Kyle of course never leaving her side.
Kyle and Abby were together for a few months before he went off to Quantico. Theirs was a passionate love affair. Abby knew that Kyle dreamed of being an FBI agent so instead of holding on to him, she pushes him away. Her heart broke as she did it, his shatters. Life goes on although neither of them move on.
I adore Kyle. He has just enough self-confidence not to seem arrogant. He knows he is good at what he does. He also knows he wants Abby back. He is completely supportive of her in this situation- sometimes letting her take the lead, and sometimes taking the lead himself. He has daddy issues, his mom passed when he was 13. Those issues of course lead him to the FBI in the first place. There are things revealed about his family that are shocking and has him questioning what he thought he knew.
Abby is a strong female lead. Yes, her sister has been kidnapped. She is still a deputy, she will get her back. This is what she focuses on. She is glad that Kyle is by her side, there to support her. She tries very hard to keep Kyle at bay, knowing that she still loves him. Holy heck the trouble her digital investigation skills land them in. Hopefully, they can figure out who the bad guys are in time.
As far as bad guys go- only Kate will give you one that you actual end up liking. Well, at least you can't help but end up liking the hit man. He does have a set of morals on him, just skewed morals.
Romantic suspense is not my normal genre- that being said buy this book! It is that good! I enjoyed Stop At Nothing so much that I read it in one sitting. Refreshing romantic suspense read that brings with it all the feels! I cannot wait to see who the next brother will be to fall in love, and capture the bad guy.
My Rating
5 out of 5 stars
Favorite Quote
"Seriously? You're an assistant director at the FBI who's named Skinner and you've never seen an episode of The XFiles? Not Ever?"
Other People
Emma-
Abby's sister
Gabe-
Kyle's brother
Joe-
Kyle's brother
Tom-
Kyle's brother
Mac-
town Sheriff