Author
Kasie West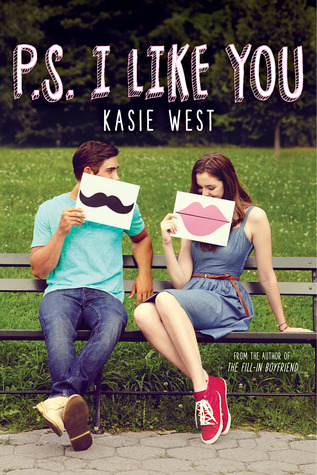 Published
July 26, 2016
Signed, sealed, delivered…
While spacing out in chemistry class, Lily scribbles some of her favorite song lyrics onto her desk. The next day, she finds thatsomeone has continued the lyrics on the desk and added a message to her. Intrigue!
Soon, Lily and her anonymous pen pal are exchanging full-on letters—sharing secrets, recommending bands, and opening up to each other. Lily realizes she's kind of falling for this letter writer. Only, who is he? As Lily attempts to unravel the mystery and juggle school, friends, crushes, and her crazy family, she discovers that matters of the heart can't always be spelled out…
My Opinion
Typically I do not like contemporary and tend to avoid them at all cost. I loved The Fill-In Boyfriend which was my first experience with a Kasie West novel. When this one came out I was weary from all the hype. I really wanted to read it. Typically books with that much hype tend to fall flat, which is why I waited so long to read this one. I know, two months is not that long but it felt longer than two months.
Have you ever been in a class, one that you hated? You weren't any good at it and you tended to daydream. Then you know what Lily is going through, only her teacher took away her one true way to handle the class- her notebook. So she writes a lyric of an Indie band on the desk. The next day a new lyric was on the desk. From there the pen pal relationship takes off- as does the mystery, who is the pen pal?
Lily is a teenager, one who has a family first motto. This is hard for some people to understand, but I get it- having four kids of my own. Lily isn't lost due to her siblings, yet she is defined by them and her parents. This makes her unreliable at times, which is hard and can put a strain on anyone's friendship. She is also a tad bit cynical, and socially awkward. These character traits sound negative, I found them charming. Pretty much everything about this book was charming. Lily has a goal- to become a song writer now all she has to do is write a song.
The pen pal, I enjoyed the relationship that built with Lily and the pen pal. I also knew that it couldn't last. Lily at first did not want to know who the pen pal was- what a great way to ruin a good thing. With this person she could be herself and not worry about judgement. They also opened up to her, and it was nice. Comfortable hiding among the masses.
The usual suspects- David, band guy that Isabel keeps bring around then Lucas, senior taking a repeat Chemistry class and finally Cade, Lily's nemesis. David is a bit like Lily, awkward. He tries though, you gotta give him that especially after what happened the first time he went to Lily's class. Lucas was a bit too nonchalant for me. Cade, I didn't understand why they hated each other. They did though and that makes it hard to like him.
The love interest is one of these three, and to be fair you find out who it is about 42% of the way in. You could guess the right answer. I adore this guy, puffy heart adore him. I know I shouldn't I know I need to be with Lily on this one. I can't help it. There is something about him that just makes me smile. I adore the scene where she marches up to him and he tells her like it is. There is another scene in this book that involves her, and eventually him that made me boohoo guy tears of aaaahhhh that is so sweet. I know kinda sappy and for me to like it is nothing short of a miracle. Regardless all of their interactions were able to make me smile.
Lily's family is loud, quirky and so real that at times it felt like sitting at my dining room table. Right down to the aunts and cousins being in your business. I loved the aspect that they play in the storyline. It was harder for me to like Isabel. I felt that she was a bit pushy when it comes to Lily's love life or lack there of. When it is explained I get it, and then I get mad at her.
P.S. I Like You is one of those books that captivates you. It pulls you back to high school where everything is major and every slight side eye dramatic. With every turn of the page, you feel the emotions of Lily and the pen pal.
My Rating
5 out of 5 stars
Favorite Quote
"I will love my man bracelet!"
Other People
Isabel- Lily's best friend.
Ashley- Lily's sister
Sasha- mean girl