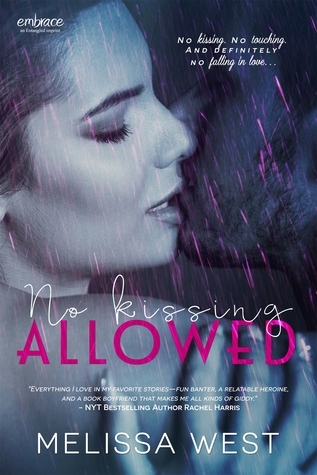 Author
Melissa West
Format
e-book
Print Length
250 pages
Publisher
Entangled Embrace
Published
July 28, 2015
No kissing. No touching. And definitely no falling in love...
Armed with her besties, an embarrassing number of shots, and her list of 10 Wild Things To Do Before Adulthood, recent grad Cameron Lawson is partying it up before she starts her dream job at New York's biggest ad agency. Her last task? Hook up with a random guy. And while it's so not her style, the super-sexy guy sitting next to her is definitely game. No names. No details.
At least, that was the plan.
On her first day of work, Cameron discovers her hook-up is none other than Aidan Truitt—her new boss's boss. Talk about failing the "no fraternizing with coworkers" policy on an epic level. Especially when Aidan makes it clear their one night was only the beginning. Falling for him could cost her everything, but sometimes the only way to get what you want is by breaking a few rules...
My Opinion
Another list book! Y'all should know by now how much I love list books. Cameron makes a list of 10 things she wants to do before she is officially an adult- with an adult job and adult bills to pay. Lauren and Grace, her besties, add one more to her list making it an uneven 11. The item…have a one night stand. So yeah… Cameron is not really into one night stands, she is more of a relationship kinda gal. There is this guy though, at the bar and one thing leads to another. Thinking she will never see him again she goes about her weekend, getting ready to start her first grown-up job. Too bad one night stand guy is her boss' boss. Yikes!
Cameron is a character that you will just instantly love! She is adorably sweet, with her head on straight. Yeah, Aidan throws her off balance every now and then. She doesn't hid it though, instead she owns it. She is confident in her ability to do her job regardless of her relationship or lack there of with Aidan. There were a few times that I wanted to take her aside and tell her I thought something or someone was bad for her. She had to make her own mistakes though- that is kinda what being a grown-up is all about.
Aidan took a little longer for me to warm-up to, commitment phobia guys usually do though. He constantly tells Cameron he doesn't date, yet he acts like he is dating her. Talk about mixed signals. Once he gets into the game though he goes whole heartedly. Trust me when I say at that point in the book there is no escaping falling in love with him yourself.
No Kissing Allowed is a sweet romance. The kinda read that you would take to the beach and savor with the sounds of the ocean in the background. Or the book you pull out when it is raining outside and you just want to snuggle on the couch.
My Rating
4 out of 5 stars
Favorite Quote
"You're the good girl to their bad. Every group's got one, and now they're trying to force you over to the dark side."
Other People
Lauren-
Cameron's bestie
Grace-
Cameron's other bestie
Alexa-
receptionist at the firm