Author
multiple
Format
e-ARC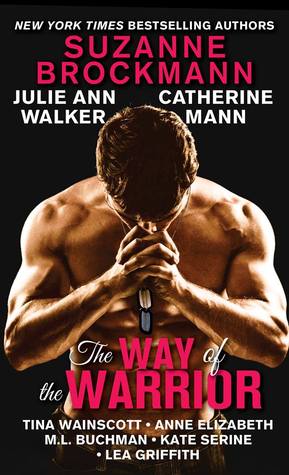 Print Length
448 pages
Publisher
Sourcebooks Casablanca
Published
May 5, 2015
EIGHT PASSIONATE LOVE STORIES ABOUT AMAZING MILITARY HEROES BY BESTSELLING AUTHORS:
Suzanne Brockmann, Julie Ann Walker, Catherine Mann, Tina Wainscott, Anne Elizabeth, M.L. Buchman, Kate SeRine, Lea Griffith
To honor and empower those who've served, all author and publisher proceeds go to the Wounded Warrior Project.
The Wounded Warrior Project was founded in 2002 and provides a wide range of programs and services to veterans and service members who have survived physical or mental injury during their brave service to our nation. Get involved or register for programs and benefits for yourself and your family online at
www.woundedwarriorproject.org
.
"It is a proud privilege to be a soldier." —George S. Patton Jr.
"We sleep safely at night because rough men stand ready to visit violence on those who would harm us." —Winston Churchill
My Opinion
This book includes eight short stories. I thought for the review I will give a few words on each of the stories.
Hot As Hell by Julie Ann Walker
Harper is a secretary to the US Ambassador in Pakistan. For months they were expecting an attack and none came- to the Seal team that was originally protecting them gets called away on another mission. While they are gone the embassy gets attacked. Will Michael and his team get to her in time?
I loved Harper- she is a no nonsense kinda gal in the middle of a huge crisis. Michael is a sweetheart who will stop at nothing to save her. That is main objective at the moment, followed closely by the need to define their relationship. He is a man who knows what he wants and he is not afraid to grab for it.
This story gets 5 out of 5 stars. I can definitely say I will be looking for more stories in this series.
In Plain Sight by Catherine Mann
Stacy is being stalked by her ex-hubby Jared. A stalker who is seriously escalating into dangerous territory. The only problem is that no one believes her except that is for the guy who answered her 911 phone call-Gavin. Just so happens Gavin is her first love. The boy who walked away from their love to join the military. Gavin was medically discharged and is coming to terms with his new disability. Being disabled is not going to stop him from stopping Jared though.
Stacy and Gavin just didn't do it for me. I felt that their chemistry wasn't there. Also their reconnect happens instantly which after ten years wouldn't fly in my world.
This story gets 3 out of 5 stars.
Torn by Kate SeRine
Sadie and Joe grew up together- the best of friends. Both wanting more but not acting on it. Joe joins the military and Sadie stays behind. Joe gets hurts and returns to their home town, where Sadie is a teacher. Someone is stalking Sadie, Joe doesn't know but he is about to find out.
I puffy heart love Sadie. She is strong, she is independent and most of all she is understanding. She knows her bestie and is there for him always. Joe knows he loves Sadie but he doesn't feel like he deserves her, and to be honest maybe he didn't. At least not until she was in danger- that is when he man's up and is determine to catch the gal. Seriously, moments with Joe can be a swoonfeast.
This story gets 5 out of 5 stars. I am waiting impatiently for the next Kate SeRine book to release- I mean it has seriously been too long!
War Games by Lea Griffin
Rook is the only living member of a Delta Force Team, he is also in Ft. Leavenworth. Vivi is just the gal to get him out of there- after all she did promise her brother on his death bed. All she has to do is stage a prison break, get Rook and help him clear his name. Plus, not get caught. No biggie- especially for Vivi she can hack into any system. Clearing his name though- that might be a bit hard.
Vivi is another gal that totally floated my boat. Loyalty to her brother outweighs her fears and she will do what is asked of her. Her blind trust in the character of Rook is also pretty amazing, especially since he doesn't trust himself. Rook knows he was framed but where does Vivi fit in? Can he trust her?
This story gets 5 out of 5 stars. I want to read more by this author.
Beauty and the Marine by Tina Wainscott
Kristy is a model being stalked- so much so she has been in hiding for two years. Her security team has decided to smoke the stalker out. They do this with a fake reality tv show on a ranch ran by a guy named Griff. Griff is a military man in hiding because of survivor guilt and scars- visible scars.
I did not connect with the characters in this one.
This story gets 2 out of 5 stars.
NSDQ 325 by M.I. Buchman
US Army Captain Lois Lang is a pilot or was until she lost a leg putting the chopper down. When she realized that it was either the leg or her people she didn't hesitate. Now she has a prosthetic and is trying to get her life back. She can't go back into the chopper so there is the fear that the review board will be dismissing her soon. Kendall Clark is a Black Hawk specialist that has been her friend and colleague for years. He has also been carrying a torch for her since forever.
I loved Lois- she is down to earth, she is honest and above all she is real. Kendall is the perfect guy for her- observant, calculating and with the right amount of confidence in his decisions. Some great moments in this one, also some teary moments in this one.
This tale got 4 out of 5 stars.
SEALed with Passion by Anne Elizabeth
Jonah is a Navy Seal on a mission- to help his best friend finish his house. His house is part of the Wounded Warrior Project- Kevin lost the use of his legs while he was serving in the military. He already knows that Alisha will be there after all she is Julie's bestie. Jonah and Alisha met at Kevin and Julie's wedding but have not spoken since that incredible night.
I liked Jonah- he is honorable, loyal and really just a nice guy. Alisha is well she is bossy, a know –it-all and pretty much likes things in order. They would fit together perfectly, except for the aftermath of that night they had together. Loved that this one gave us insight into Jonah's head and why he did what he did.
3 out of 5 stars for this one.
Home Fire Inferno by Suzanne Brockmann
Okay so the Home Fire Inferno was not what I was expecting. Instead of a sweet romance I got a tale of how a Navy Seal team is really a family. What a tale this was. Two of the Seal's partners are stranded in the desert and one goes into labor. Since the Team is go ready she doesn't want her hubby to know. So they end up calling his Senior Officer. Who calls the members of the team that are back home to go and find them. Holy cowziers~ y'all this one made cry and laugh and yeah it was pretty awesome.
My Rating 5 stars out of 5
As a rule I tend to avoid books with multiple authors and stories. Mostly, because I end up paying for a book that has one or two stories that I like and the rest make me feel like it was a waste of my time. That is so not true in this case. Some of these tales are amazing- they will make you laugh and make you cry. There were three that I didn't care for but other people loved them. Give this book a try- it's for a good cause and well the stories are entertaining.