Author
Kasie West
Format
e-book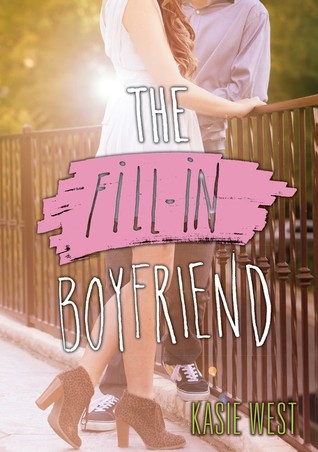 Print Length
352 pages
Publisher
HarperTeen
Published
May 5, 1015
When Gia Montgomery's boyfriend, Bradley, dumps her in the parking lot of her high school prom, she has to think fast. After all, she'd been telling her friends about him for months now. This was supposed to be the night she proved he existed. So when she sees a cute guy waiting to pick up his sister, she enlists his help. The task is simple: be her fill-in boyfriend— two hours, zero commitment, a few white lies. After that, she can win back the real Bradley.
The problem is that days after prom, it's not the real Bradley she's thinking about, but the stand-in. The one whose name she doesn't even know. But tracking him down doesn't mean they're done faking a relationship. Gia owes him a favor and his sister intends to see that he collects: his ex-girlfriend's graduation party — three hours, zero commitment, a few white lies.
Just when Gia begins to wonder if she could turn her fake boyfriend into a real one, Bradley comes waltzing back into her life, exposing her lie, and threatening to destroy her friendships and her new-found relationship.
My Opinion
Gia is a senior in high school about to go to prom when her college age boyfriend dumps her in the parking lot of all places. Right before they make their grand entrance. Well, she can't go to prom without a date- so she finds some guy to pretend to be her boyfriend. One lie, leads to another and then another until she is unsure of what is a lie and what is the truth. At least when it comes to matters of the heart that is.
Gia is a very relatable main character. Everyone wants to be liked and she does try hard to be likable to her friends. But the reality is that by trying hard to be likeable, she has been hiding her true self for years. It's a learned behavior for her- one she picked up from her parents- one she didn't even recognize. What I adore about her is she owns up to her mistakes- accepts them and tries to makes amends.
Hayden is a great fill-in boyfriend. He would make a great real boyfriend except he comes with baggage. If Gia decides it is him that she wants she will have to understand where he is coming from. He has been burned in the past and it hurts.
Neither one of these people have great taste in friends. Some are okay but others are well- you have to read the book. Gia's family is messed up. Her parents are "yes" parents. My children can do no wrong parents. To me this does the children a disservice- in our society there are a lot of parents like this though.
The Fill-In Boyfriend is a book to get excited about. With relatable characters- real life problems and real life consequences. A great read that may just cause you to pause and reflect on your life.
My Rating
5 out of 5 stars
Favorite Quote
You're just clueless. She's intentionally mean.
Other People
Jules-
Frienemy
Claire-
Gia's bestie
Bec-
Hayden's sister
Bradley-
Gia's boyfriend
Spencer-
Hayden's bestie