Author
Katee Robert
Format
e-ARC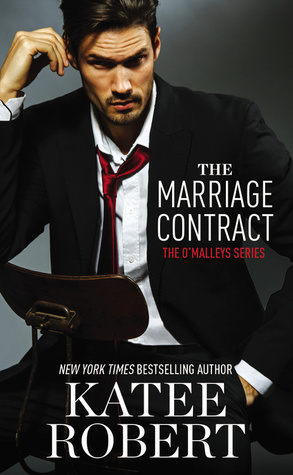 Print Length
?
Publisher
Forever
Published
June 2, 2015
New York Times and USA Today bestselling author Katee Robert begins a smoking hot new series about the O'Malley family-wealthy, powerful, dangerous and seething with scandal.
Teague O'Malley hates pretty much everything associated with his family's name. And when his father orders him to marry Callista Sheridan to create a "business" alliance, Teague's ready to tell his dad exactly where he can stuff his millions. But then Teague actually meets his new fiancée, sees the bruises on her neck and the fight still left in her big blue eyes, and vows he will do everything in his power to protect her.
Everyone knows the O'Malleys have a dangerous reputation. But Callie wasn't aware just what that meant until she saw Teague, the embodiment of lethal grace and coiled power. His slightest touch sizzles through her. But the closer they get, the more trouble they're in. Because Callie's keeping a dark secret-and what Teague doesn't know could get him killed.
My Opinion
I read a mobster tale and I liked it! This was my first mobster story and I have to say I will be waiting for the second one in the series. There are three reigning mob families in Boston- the Sheridans, the Hallorans and the O'Malleys. Callista is a mob princess who was about to announce her engagement to a mob prince from the Hallorans family. Her future hubby was a total meanie and ends up dead- no one knows who killed him. His family gets offended when the announcement is made that instead of marrying into their family she will be marrying into the O'Malleys' family. Hence a mob war is started over this disrespect.
Teague O'Malley is the groom, the second son in the O'Malley family his biggest concern is keeping his siblings safe. That is until his oldest siblings have him agreeing to marry Callista. Now on top of keeping his siblings safe- he has to keep his fiancé safe as well. Normally, this wouldn't be a problem but the Hallorans out for blood. Teague will try to contact an old friend, a kindred spirit in James Halloran both second sons, both wishing they were born under different circumstances. Halloran tells him to find the person who murdered his brother- that is the only way to end the war.
Callista is an interesting character- she does not hate the family business. She actually can counterbalance the bad with all the good that it does. She just wants her family to go legit- get out of the illegal stuff. She has a good head on her shoulders. I get why she keeps her secret, I mean she barely knows her fiancé. Her secret though, it is a doozy. Will Teague be able to look past it?
I adore Teague- if all mobster sons were like this I would totally be falling for them left and right. He is so protective of his siblings and Callie. Watching him with her is adorable. He takes this engagement seriously, he knows that the marriage will be for life. In the mob world there is no other option.
This is a story about love, family and what you will be willing to do for both. The family dynamics in all three households are intriguing. To be honest towards the end the relationship aspect of James and Carrigan actually take over for me. I didn't mean to get more involved in their lives I just trusted that Teagan would take care of his own, and Callie's.
My Rating
4 out of 5 stars
Favorite Quote
To hurt her is to hurt something of mine.
Other People
Micah-
Callista's bestie and body guard
James-
Halloran family heir
Aiden-
Heir to the O'Malley family
Cillian-
younger brother of Teague
Carrigan-
Teague sister, she is a tough one