Author
Brigid Kemmerer
Format
e-ARC
Print Length
324 pages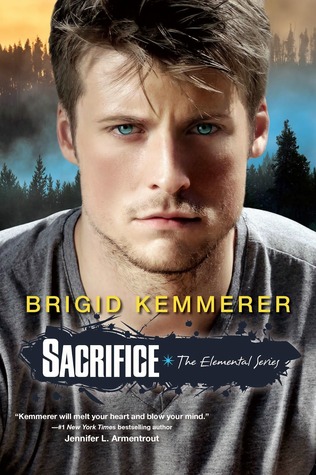 Publisher
Kensington Teen
Published
September 30, 2014
Earth. Fire. Air. Water.
One misstep and they lose it all. For the last time.
Michael Merrick understands pressure. He's the only parent his three brothers have had for years. His power to control Earth could kill someone if he miscalculates. Now an Elemental Guide has it in for his family, and he's all that stands in the way.
His girlfriend, Hannah, understands pressure too. She's got a child of her own, and a job as a firefighter that could put her life in danger at any moment.
But there are people who have had enough of Michael's defiance, his family's 'bad luck'. Before he knows it, Michael's enemies have turned into the Merricks' enemies, and they're armed for war.
They're not interested in surrender. But Michael isn't the white flag type anyway. Everything is set for the final showdown.
Four elements, one family. Will they hold together, or be torn apart?
My Opinion
Sacrifice is the fifth book in the series, the one that stars the amazing Michael Merrick. What makes him amazing? Well, his parents die and instead of boo whooing he steps up and demands custody of his three brothers. He shows unwavering support of them as they get into and out of trouble. He is conscience of his decisions and knows that his actions reflect on how he raises the boys. In part, he is the parent figure and he plays the role well. For the last four books, Michael has protected his family at all cost. In this installment, the cost may very well be his life.
As a hero- Michael kicks major butt. He is always present, always in control and always there for his brothers. Sometimes though, it can be draining- he wonders what it would be like if. He understands that the if will never happen- it can't happen but still there is the wondering. His family is in danger- his loved ones are in danger. This causes him to push away from Hannah, his love interest.
Hannah- as a grown-up she is annoying. She whines constantly about her mistake- getting pregnant at 17 and all that she gives up. She complains about how people view her and does nothing to make up for their impressions. Honestly, there are times I want to slap her since she is a fictional character I won't. For goodness sakes, she is a momma she needs to act like one.
The Guides are still after the Merricks. Can Michael protect all of them and their loved ones or will someone be sacrificed? The book ends- with well an ending. But nothing is resolved. I looked, there is no sixth book planned- so what happens? Will Michael and Hannah be together? Will the Guides stop hunting them? The people who lost their lives to the war, will there be closure?
I hate when a series ends with more questions than when it begins.
My Rating
3 out of 5 stars
Favorite Quote
They'd been ready for war against the Guides who hunted them. It never came.
Other People
Irish-
fireman friend of Hannah's
Hannah's dad-
fire marshal