Author
Kami Garcia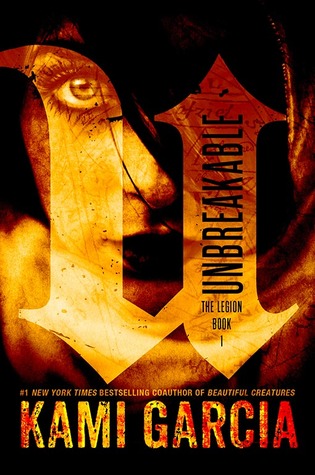 Format
E-ARC
Print Length
305 pages
Publisher
Little Brown Books for Young Readers
Published
October 1, 2013
Supernatural meets The Da Vinci Code in this action-packed paranormal thriller, the first book in a new series from New York Times bestselling author Kami Garcia.
I never believed in ghosts. Until one tried to kill me.
When Kennedy Waters finds her mother dead, her world begins to unravel. She doesn't know that paranormal forces in a much darker world are the ones pulling the strings. Not until identical twins Jared and Lukas Lockhart break into Kennedy's room and destroy a dangerous spirit sent to kill her. The brothers reveal that her mother was part of an ancient secret society responsible for protecting the world from a vengeful demon — a society whose five members were all murdered on the same night.
Now Kennedy has to take her mother's place in the Legion if she wants to uncover the truth and stay alive. Along with new Legion members Priest and Alara, the teens race to find the only weapon that might be able to destroy the demon — battling the deadly spirits he controls every step of the way.
Suspense, romance, and the paranormal meet in this chilling urban fantasy, the first book in a new series from Kami Garcia, bestselling coauthor of the Beautiful Creatures novels.
My Opinion
Kennedy's daddy walked out on her and her momma. This broke her momma's heart and Kennedy blames herself for daddy leaving. Momma raised her to be a free-spirited artist that she is. Unfortunately, Kennedy was born into a secret organization that her momma kept from her. This would not be a big deal, except momma dearest is dead and something is after Kennedy. In fact all of the adult members of the Legion (the secret society) are dead and their teenage counter parts have to pick up the pieces. Two brothers come in the nick of time and save her. Why do they save her? Because she is a member of the Legion, a secret group tasked with saving the world from a demon that their ancestors let lose decades ago. How do they stop the demon?
Okay, I am going to get this out of the way early on. Unbreakable reminded me of Supernatural the TV show. So much so, that I looked at the hubby and said I am reading a book that reminds me of Supernatural. There are brothers that act like hunters, a jack of all trades guy named Priest and a gal that reminds me of Jo. Regardless, it was still a good book.
Unbreakable is a fast-pace action packed adventure with a few swoony parts thrown in. Kennedy is clueless as a heroine yet she steps up to the plate and plays ball. She rarely complains about her life- she does have daddy issues though. Her attraction to the brothers is well played and it is pretty clear early on which one she will choose for a friend verses a boyfriend. So really it is a tale of the love triangle that wasn't. The brothers, have issues but honestly which sibling pairing doesn't have issues. The creation of the secret society- The Legion is a great touch to this tale. I love that each of the five members has specific roles to play. The clues that they follow to ensure that the demon is kept out of our realm is extremely interesting. The ending is HELLO MA'AM and THANK YOU for making me drool from wanting the sequel so badly. Overall, this book is entertaining unless you are mega supernatural fan and think of this book as a knock-off.
My Rating
4 out of 5 stars.
Favorite Quote
She knew what I was now- what I had been all along. A liability.
Other People
Jared
- Legion member, Lukas' twin
Lukas
- Legion member, Jared's twin
Priest
- Legion member-engineering expert
Alara
- Legion member- alchemy expert