Author
Jennifer L. Armentrout
Format
e-book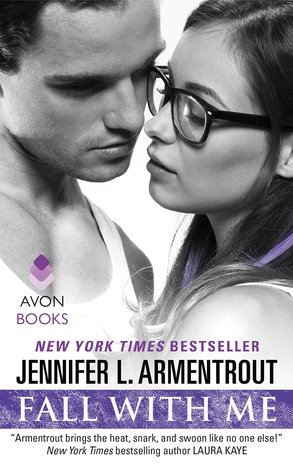 Print Length
?
Publisher
Avon
Published
March 31, 2015
Eleven months ago, bartender and weird-shirt-wearing extraordinaire Roxy and Officer Reece Anders had a one night stand. Well, kind of. She's been in love with him since she was fifteen, and he wishes that night they shared never happened. She's sworn him off forever, but the past and future collide, forcing her to rely on the one man who broke her heart not once, but twice.
Her best friend since birth has been in a long-term care facility since he became a victim of a hate crime years ago, and the person who put him in there is out of prison and wanting to make amends with him and Roxy. She's not sure she has room for forgiveness in her and when she begins to receive frightening messages and is on the receiving end of escalating violence, she thinks she knows who is to blame. The man who already destroyed one life already.
But Reece isn't convinced. The threats are too personal, and even if Roxy doesn't believe him, he's not willing to let anyone hurt her. Including himself. He's already messed up more than once when it comes to Roxy and he's not going to let history repeat itself.
My Opinion
Roxy has been avoiding Reece for a long time even though she is madly in love with him. Reece is tired of the not knowing why and decides to take matters into his own hands. He wants Roxy back in his life. It couldn't have happened at a better time because someone is harassing Roxy. Will Reece be able to protect her and win her back?
Roxy has had it rough- I mean Rough with a capital R. Man, has she pulled through though. She bartends and attends college. In her spare time, she paints. She is an artist at heart but she knows that will not pay the bills. Man, is she relatable though. She doesn't crawl under the covers and hide. Instead she faces everything head on, everything that is except Reece. Her one weakness.
Reece grew up with Roxy's brothers which by default means he grew up with Roxy. When he returns from the war, it is Roxy who pulls him out of his depression. Then something happened, he doesn't remember what. He just knows that he lost the best thing in his life and he wants it back. Any form of it back. How can he get her back into his life when she won't talk to him. Won't tell him where their friendship went wrong? He has waited long enough- now it's his time to do something about it. With a threat aimed directly at Roxy and a serial killer on the lose he is determined to keep her closer than ever. Reece is a fabulous book boyfriend- he is kind and gentle to Roxy. He is fierce and protective of her.
Roxy is one of my favorite JLA characters to date. Her quirky t-shirts and positive attitude makes me wish I knew her in real life. Fall With Me is one of my all-time favorite contemporary New Adult reads. If you are looking for a great love story that is totally believable go one-click right away.
My Rating

5 out of 5 stars
Favorite Quote
I'm not going to disappear on you without one hell of a fight.
Other People
Charlie-
Roxy's bestie, was in a horrible accident
Katie-
Roxy's friend
Nick-
bartender where Roxy works