Author
Katie M. Stout
Format
e-ARC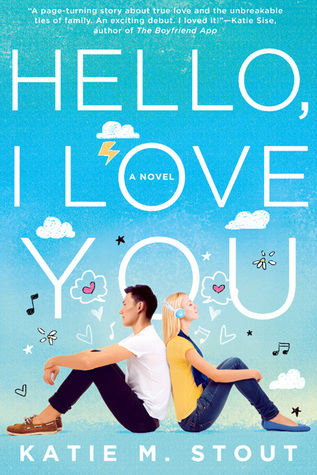 Print Length
304 pages
Publisher
St. Martin's Griffin
Published
June 9, 2015
A teen escapes to a boarding school abroad and falls for a Korean pop star in this fun and fresh romantic novel in the vein of Anna and the French Kiss.
Grace Wilde is running—from the multi-million dollar mansion her record producer father bought, the famous older brother who's topped the country music charts five years in a row, and the mother who blames her for her brother's breakdown. Grace escapes to the farthest place from home she can think of, a boarding school in Korea, hoping for a fresh start.
She wants nothing to do with music, but when her roommate Sophie's twin brother Jason turns out to be the newest Korean pop music superstar, Grace is thrust back into the world of fame. She can't stand Jason, whose celebrity status is only outmatched by his oversized ego, but they form a tenuous alliance for the sake of her friendship with Sophie. As the months go by and Grace adjusts to her new life in Korea, even she can't deny the sparks flying between her and the KPOP idol.
Soon, Grace realizes that her feelings for Jason threaten her promise to herself that she'll leave behind the music industry that destroyed her family. But can Grace ignore her attraction to Jason and her undeniable pull of the music she was born to write? Sweet, fun, and romantic, this young adult novel explores what it means to experience first love and discover who you really are in the process.
My Opinion
Sometimes life gets to be too much. Sometimes you want to run away- anywhere will do. A tragic event leads Grace Wilde to run away. She runs all the way to a boarding school in South Korea. She knows nothing about South Korea just that is far away from her Tennessee home and the tabloid reporters that are stalking her family.
Thankfully, her roommate was raised in America. At least she will have someone to talk to. Grace knows no Korean, so her roomie's twin brother Jason becomes her tutor. Jason is in a Korean pop band. He is not taking to celebrity life so well. He wants to make music- but to be honest being a celebrity is hard. There are fans everywhere- hopefully Grace can help him out.
Depending on how you read this book you could potentially see Grace as two different characters. Some will see her as an ego-centeric American. Others will see her as a girl who is about to experience a new culture for the first time. I saw her as someone who in a moment of panic makes a split decision- was it a good decision. Time would only tell, but at least she is experiencing new things. Sometimes it is hard to go out of your comfort zone. Grace does this with a maturity that is seldom seen in someone her age. She embraces Korean culture. Yes, she does compare it to her old way of life- but to be honest who wouldn't.
Jason for the first half of the book is well a jerk. He knows it though and has his reasons for it. Grace unlike everyone else calls him on it. This helps him to become more comfortable around her and to open up. He starts taking her advice and his career improves. That is until it doesn't and then Grace is there to pick up the pieces.
Hello, I Love You is a cute coming of age tale. It is about a girl who runs away and a boy who stays. Both have some growing up to do. Thankfully they can do it together.
My Rating
4 out of 5 stars
Favorite Quote
The thing about telling someone off is that it feels great at the time, but regret inevitably follows.
Other People
Jane-
Grace's little sister
Sophie-
Jason's twin sister
Yoon Jae-
Band member
Tae Hwa-
Jason's bestie and band member