Author
Amanda Carlson
Format
e-ARC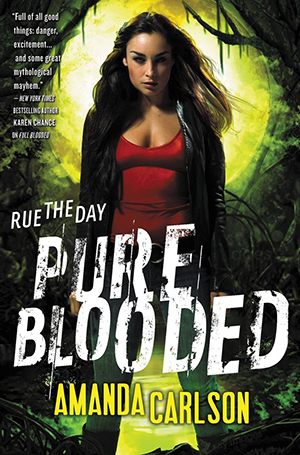 Print Length
320 pages
Publisher
Orbit
Published
June 16, 2015
Jessica arrives back from the Underworld to find her father embroiled in a battle against the Made wolves. She and her crew drop everything to join them.
Once she arrives, the threat is after her. Jessica is lured into danger when her adversary takes something precious from her. With help from an unlikely source, Jessica goes up against her creator in a battle that will decide the path of everyone involved. She must war against a new set of foes, ones who could not only steal her power, but could take her soul as well.
My Opinion
Pure Blooded starts off right where Red Blooded ended. Jessica and gang are now out of the Underworld. Ramifications of her actions in the underworld will soon start to show themselves. Her daddy has decided to offer himself up in order to stop the person who is creating the Made wolves. What is it with the McClain crew offering themselves up as martyrs? Not only is this happening but the events of Red Blooded have caused Fate to be well pissed off. One of the hags is so angry that she is going to send everything she can at Jessica- even the Made wolves.
Woowziers, this book is jammed packed with action. Both the romantic Rourke/ Jessica kind and the kicking butt and taking names kind. Thank goodness for some Rourke/Jessica kind of action- Red Blooded was so severely lacking in this department that I was worried Pure Blooded would be too. Jessica does not know how good she has it with her pack and friends always standing beside her. Goodness knows that gal would be dead already without them. Pure Blooded reiterates this fact over and over again. Another mated pair is discovered, and one is hinted at.
Not only are there awesome moments with Rourke and Jessica but she has some great ones with her peeps-Danny, Naomi, Ray, Tyler and her bestie Marcy. Speaking of Marcy- that witch can spell and brew! Her humor sprinkled through the book reiterates why I love this series. Jessica's trusted neighbor Juanita is even in on the action. Her true nature being revealed and honestly everyone is shocked. Human she is not.
Okay, so I have already stated why I love the book. You might be wondering about the four and a half star rating then. Normally, books I love get a five star rating but y'all I just couldn't do it this time. You see – there was something that I absolutely hated about the book. It ends, yeah all books ends but this one just stops. As in I wasn't expecting the ending to be where it was. I was expecting more to the story. I even looked to make sure that I didn't accidently move my reading place. But no- it just stops. You are reading along, it is action-packed you are in your happy place and then bam the end. This reader was like what the what? Seriously, you are ending here? It is a great book, a must read but you have been warned the ending will sneak up on you and you will get mad.
My Rating
4.5 out of 5 stars
Favorite Quote
Jeez, I'm amending the name Hercules, and from now on I'm going to refer to you as Wonder Wolf.
Other People
Marcy-
bestie, witch James mate
Danny-
pack man
Naomi-
trust vamp guard
Tyler-
twin brother
Ray-
vamp and reaper