Author
Kendra C. Highley
Publisher
Entangled: Crush
Published
Nov. 14th, 2016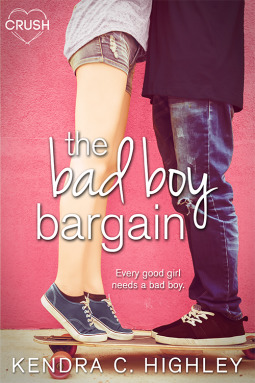 Baseball player Kyle Sawyer has many labels: bad boy, delinquent, ladies' man, fearless outfielder… Only one of them is actually true. But then sweet ballet dancer Faith Gladwell asks him to help wreck her reputation, and everything goes sideways.
Faith knows a thing or two about love, and what she had with her cheating jerk of an ex wasn't it. When he starts spreading rumors about her being an Ice Queen, Faith decides it's time to let a little bad into her life.
Lucky for her, Kyle Sawyer—dark, dangerous, totally swoonworthy Kyle Sawyer—is landscaping her backyard over Spring Break. Shirtless. And if she can convince him to play along, "dating" Kyle will silence the rumors.
But Faith's plan threatens to expose Sawyer's biggest secret of all…and that's a risk he's not willing to take.
My Opinion
Kyle was bullied pretty bad in middle school by a boy named Cam. So the summer between 8th and 9th grade he decided to do something about it. It does help that he grew like two feet that summer and gained an extra 50 lbs. So when 9th grade started so did his bad boy reputation. Other boys wanted to be him, all the girls wanted to date him. He just kept doing his thing on the baseball field and worked his side job on the weekend as a landscaper.
Faith is a dancer, one who spends a lot of time at practice. She is dating a guy name Cam but is about to end things with him. Cam can tell that Faith is about to dump him and instead puts himself in the position to be found with another girl at a party. Faith dumps him publically and he declares that she is an ice queen. This is something that Faith doesn't want to have spreading around and so she comes up with a plan. It helps that her momma just hired Kyle to fix their backyard.
Faith is a sweet girl, one who knows something isn't adding up with Kyle's reputation. She puts her worries aside so that she can fix her tattered on. This is the one thing that bothered me- she wasn't willing to be known as an ice queen that cares about who she messes around with but instead was okay with people thinking that she was a sex kitten? I didn't really understand that part but I went with it because teenagers can be a bit on the dramatic side.
I liked Faith and Kyle both separately. Together they were just adorable. The fact that he watched an old musical to impress her impressed me. Faith's parents are very much a part of her life and so that was a nice change from previous contemporaries. Her best friend Violet, and Kyle's grandpa are literally icing on this sweet cake of a story.
The Bad Boy Bargain is a lovable read that will entertain you for a few hours.
My Rating
4 out of 5 stars
Favorite Quote
"I pull out all the steps when I'm aiding and abetting a revenge-seeking ex-girlfriend."
Other People
Violet- Faith's bestie
Grandpa- Kyle's papa