Author
Alexandra Ivy
Format
e-ARC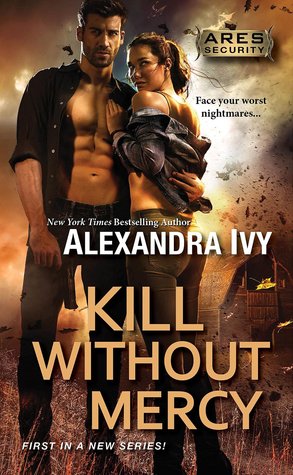 Print Length
352 pages
Publisher
Zebra
Published
Dec. 29, 2015
From the hellhole of a Taliban prison to sweet freedom, five brave military heroes have made it home—and they're ready to take on the civilian missions no one else can. Individually they're intimidating. Together they're invincible. They're the men of ARES Security.
Rafe Vargas is only in Newton, Iowa, to clear out his late grandfather's small house. As the covert ops specialist for ARES Security, he's eager to get back to his new life in Texas. But when he crosses paths with Annie White, a haunted beauty with skeletons in her closet, he can't just walk away—not when she's clearly in danger…
There's a mysterious serial killer on the loose with a link to Annie's dark past. And the closer he gets, the deeper Rafe's instinct to protect kicks in. But even with his considerable skill, Annie's courage, and his ARES buddies behind him, the slaying won't stop. Now it's only a matter of time before Annie's next—unless they can unravel a history of deadly lies that won't be buried.
My Opinion
Four guys come back from being held captive. Captivity had them form a bond that cannot be broken. Civilian life is not for them, so they band together to form Ares Security company. On the eve of their launch, Rafe the one trained in covert ops has a death in the family and had to go to settle the estate. While there he runs into Annie, the daughter of the towns' notorious serial killer. Annie came back to Newton to get answers. Her father was accused of being a serial murderer when she was a child. He was killed within 24 hours of his arrest. Annie grew up confused and hurt. She didn't understand how her daddy could be a serial killer. She cannot understand how she did not know- how was he able to hide it from her. Maybe Newton will hold the answers. Maybe Newton could stop her nightmares- horrifying dreams of women being taken. Once she arrives though, she finds that those dreams are a reality. The "Newtown Slayer" is back from the dead- or was her daddy not the real Slayer?
Rafe is a protector- it is in his nature. He and his brothers get back from being hostages and he realizes they are all struggling- thus the idea of ARES is created. He notices a pretty gal looking uneasy and he tries to help her. He finds out that there hidden secrets in Newton, secrets that are hurting people and he wants to uncover them.
Annie is logical, with a side of guilt. She feels guilty she loves her daddy (after all he is a serial killer). She feels guilty she hates her job- her foster parents put her through school. She feels guilty she survived when all those other girls did not. She feels guilty that girls are going missing again. She even feels guilty about needing closure. She doesn't let the guilt consume her. Instead she looks for ways around it, looking for clues to allow her to still love her daddy.
Annie and Rafe meet, causing them to develop a connection. Rafe sees in Annie a kinder spirit. Annie sees Rafe as a broken hero. A relationship develops out of circumstance. It becomes intense rather quickly, yet feels very real. Annie is in danger, she is being stalked. Will she be the next victim? Will Rafe and his team be able to protect her?
My favorite part of the story was not the romance, yeah unusual for me. It was the interaction between the guys. They have been tortured yet it did not kill them or their spirit. They are protective of each other, and willing to drop everything for each other. More importantly they work together like family.
Kill Without Mercy is a romantic suspense that is high on the suspense. Your heart will be pounding as you try to figure out who the true killer is. This one would be a fabulous read in the middle of a horrible thunderstorm. The twist and turns that develop was truly shocking, and the ending- oh my. Did not see something coming, boy does it explain a lot.
My Rating
4 out of 5 stars
Favorite Quote
"It really was true that the more you had to lose, the more you were willing to risk."
Other People
Max-
forensic specialist (heart)
Hauk-
sniper, weapons specialist (organizer)
Teegan-
computer wiz (brains)
Lucas-
the hostage negotiator (smooth talker)