Author
Ilona Andrews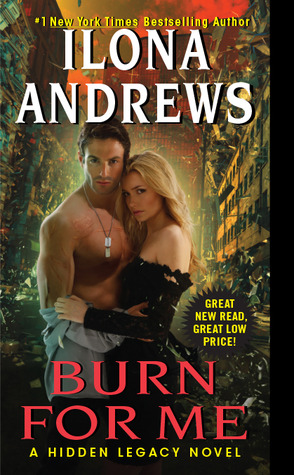 Format
ebook
Print Length
400 pages
Publisher
Avon
Published
October 28, 2014
#1 New York Times bestselling author Ilona Andrews launches a brand new Hidden Legacy series, in which one woman must place her trust in a seductive, dangerous man who sets off an even more dangerous desire…
Nevada Baylor is faced with the most challenging case of her detective career—a suicide mission to bring in a suspect in a volatile case. Nevada isn't sure she has the chops. Her quarry is a Prime, the highest rank of magic user, who can set anyone and anything on fire.
Then she's kidnapped by Connor "Mad" Rogan—a darkly tempting billionaire with equally devastating powers. Torn between wanting to run or surrender to their overwhelming attraction, Nevada must join forces with Rogan to stay alive.
Rogan's after the same target, so he needs Nevada. But she's getting under his skin, making him care about someone other than himself for a change. And, as Rogan has learned, love can be as perilous as death, especially in the magic world.
My Opinion
Nevada Baylor inherited the Baylor Investigative Agency from her dad, she runs it with the help of various family members. House Montgomery now owns the agency, Nevada still operates it. They pretty much force her to take a job she doesn't want to take. She has been tasked with the job of bring Adam Pierce in, after he sets off a chain of events that harm both the human and magic communities. Adam is a pyrokinetic magic user of Prime status- translation he is hot and dangerous. Conner "Mad" Rogan is trying to find his cousin's son, Gavin. He was with Adam when Adam committed a bank heist that killed some people. The entire city is after Adam, yet Nevada is the only person to make contact with him. Rogan is hoping to use this to get to Gavin. Conner got his reputation for being "Mad" by acting different than that of other magical houses.
The chemistry between Nevada and "Mad" Rogan are off the charts. The tension and banter between these two had me reading will into the night. Nevada is a smart, strong-willed woman. She knows that she is her family's only mean of survival and she will do anything in her power to protect them. Going after Adam protects them, working with Rogan protects them. Nevada labels Rogan as a psychopath. A lot of readers may label Mad Rogan as a sociopath- I cannot jump on that bandwagon. Yes, he does has some extreme antisocial behaviors- for the good of society. (He knows he is dangerous, his magic is dangerous.) He had to use his magic in the military and he has seen what it can do. A sociopath also is without a conscious. That is not Mad Rogan at all. He hires ex-military members to be on his team. Members that were left to fend for themselves and were failing at that.
There are going to be some people that think the attraction between Mad Rogan and Nevada is far reaching. He did kidnap her, before he actually met her and there was some bit of magic foreplay that others would call torture. The reality is though that Mad Rogan needs someone who balances him. Nevada does that, she doesn't let him push her around. More importantly she reminds him what it means to be human. Which in his case, he needs a lot of reminding. The chemistry and tension between these two characters is HOTT! (Yeah, totally worth the extra T.)
Burn for me is a fascinating paranormal romance. This one is different in that it deals solely with magic, no shifters/vamps for this world. The author takes enough time world building that you don't get lost. The world built is interesting; I could read several books about different people in this world alone. As it is, I am still waiting for the second book in this series.
My Rating

4 out of 5 stars
Favorite Quote
"Would you like to be carried away?"
Other People
Penelope-
Nevada's mom, sharp shooter
Grandma Frida-
granny gots mad skills and connections
Bern
- cousin, computer wiz