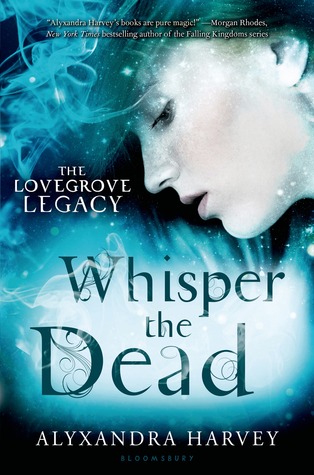 Author Alyxandra Harvey
Format e-ARC
Print Length 397 pages
Publisher Bloomsbury Childrens
Published October 9, 2014
Gretchen is struggling with her newfound gift as a Whisperer; the constant buzzing in her ears from detecting spells is more frustrating than fun, especially when she is spending time with one of the Order of Iron Nail's Keepers, the icy but strikingly handsome Tobias Lawless. But while Gretchen tries to hide the truth and resolve her feelings for him, London fades from beautiful and bustling to deathly silent ...Something evil is once again menacing Mayfair, and Gretchen and her cousins must use their powers to prevent a horrible sacrifice.
This second book in the Lovegrove Legacy trilogy is full of dark twists, spellbinding suspense and sweeping romance - perfect for fans of Cassandra Clare, Lauren Kate and Ruth Warburton.
My Opinion
Thank you to Bloomsbury and Netgalley for allowing me to review this novel. This is no way influenced my review.
Whisper the Dead stops the sophomore curse in its tracks. A fabulous sequel to an already enthralling series. A cliff-hanger ending that leaves you gasping, asking what the heck just happened and why all in the same breathe.
When we last left the Lovegrove cousins, they had battled that Greymalkin sisters and won. Whisper the Dead takes place a few days after the battle. With the Order wanting to keep a stronger eye on the cousins, each being assigned a Keeper. Gretchen's Keeper is Tobias Lawless- a by the book Keeper who has a secret or two of his own, such as the true nature of his family. Tobias is a straight and narrow Keeper who does not like to break the rules. Gretchen is a forward thinking gal who will try his patience and broaden his heart all at once. They make the perfect couple- if they would only realize it. I love their interaction, and how it often exasperates Tobias.
Gretchen's relationship with her cousins and her twin brother, Godric all play a key role in this book. Her cousins ground her, yet encourage her to go her on way. Godric well he is a remarkable brother in that he understands how the restrictions of the time on one's gender could seriously bother his twin. He is supportive in every harebrained scheme she comes up with. Which may be a problem, yet Tobias is there to catch her when she falls.
Gretchen's power is coming into its own in this book. Allowing her to know what spells was being used and how to strengthen them is no small power. She and Tobias just need to learn to trust in her ability and honestly she needs to take it a tad bit more seriously.
The ending was horrifying and awe-inspiring all at once. It does set up the final book in the trilogy rather brilliantly though. A book that this reader is biting her nails waiting for.
My Rating
5 out of 5 stars
Favorite Quote
"Kiss me back, you idiot,"
Other People
Emma-
Gretchen's cousin, in a secret relationship with Cormac
Cormac-
Tobias' partner, Keeper, in a secret relationship with Emma
Penelope-
Gretchen's cousin, the conscience of the trio, seems a little boycrazy this go round
Godric-
Gretchen's twin brother, has a bit of a crush on Moira
Moira-
a witch that is known as a Madcap, not really sure what her role is though