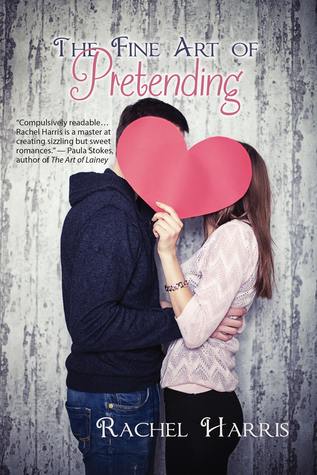 Author Rachel Harris
Format e-ARC
Print Length 256 pages
Publisher Spencer Hill Contemporary
Published Sept. 30, 2014
According to the guys at Fairfield Academy, there are two types of girls: the kind you hook up with, and the kind you're friends with. Seventeen-year-old Alyssa Reed is the second type. And she hates it. With just one year left to change her rank, she devises a plan to become the first type by homecoming, and she sets her sights on the perfect date—Justin Carter, Fairfield Academy's biggest hottie and most notorious player.
With 57 days until the dance, Aly launches Operation Sex Appeal and sheds her tomboy image. The only thing left is for Justin actually to notice her. Enter best friend Brandon Taylor, the school's second biggest hottie, and now Aly's pretend boyfriend. With his help, elevating from "funny friend" to "tempting vixen" is only a matter of time.
But when everything goes according to plan, the inevitable "break up" leaves their friendship in shambles, and Aly and Brandon with feelings they can't explain. And the fake couple discovers pretending can sometimes cost you the one thing you never expected to want.
My Opinion
The Fine Art of Pretending is packed so full of swoon worthy moments that you can't help but read it with a smile. The main characters are delightfully normal with voices that show both teen angst and hopefulness. They tackle their insecurities head on with optimistic realism.
Aly is innocent, as in really innocent. She has only had one boyfriend and that did not turn out so well. She is a senior in high school and for some reason guys don't want to date her. She thinks this is because she is a tom boy hence Operation Sex Appeal gets launched. She gets a make-over, some tighter clothes and a fake boyfriend. The fake boyfriend- Brandon happens to be her best friend.
Seriously, I puffy heart Brandon. Yeah, he makes some mistakes but overall, he is just a great guy. Brandon is weary of long-term relationships. He avoids them like the plague, with good reason. He agrees to help Aly, but really he wants to protect her. She is his best friend and so he keeps trying to steer her away from the player Justin. This whole Operation Sex Appeal is messing with his head, making him view Aly differently and that is not good. He just wants their relationship to go back to what it was- safe, normal and regulated in the friend zone.
Going back to the friend zone won't be easy- can they make it? Do they really want to? Will Operation Sex Appeal ruin everything?
Light, sweet read that goes great with a steaming cup of hot chocolate, a blanket and your sweetheart to lean on. I adored this book so much that once I was finished reading it, I sighed then read it again.
My Rating
5 out of 5 stars
Favorite Quote
Post-makeover Aly was beginning to short-circuit my nerves.
Other People
Justin-
Operation Sex Appeals main goal, to catch him
Gabi-
one of Aly's girl best friends, I really hope that the next book is about her
Kara-
the other girl bestie to Aly, totally gets the need for Operation Sex Appeal
Lauren-
mean girl of the School
Carlos-
one of Brandon's friends
Drew-
Brandon's best friend