Author
Katee Robert
Format
e-ARC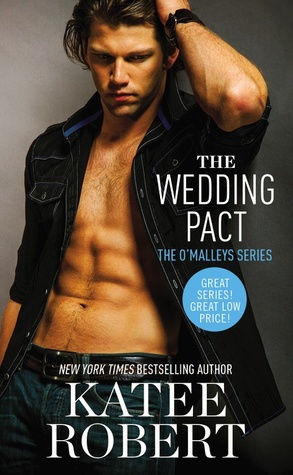 Print Length
352 pages
Publisher
Forever
Published April 26, 2016 New York Times and USA Today bestselling author Katee Robert continues her smoking-hot series about the O'Malleys—wealthy, powerful, and full of scandalous family secrets.
Carrigan O'Malley has always known her arranged marriage would be more about power and prestige than passion. But after one taste of the hard-bodied, whiskey-voiced James Halloran, she's ruined for anyone else. Too bad James and his family are enemy number 1.
Hallorans vs. O'Malleys—that's how it's always been. James should be thinking more about how to expand his family's empire instead of how silky Carrigan's skin is against his and how he can next get her into his bed. Those are dangerous thoughts. But not nearly as dangerous as he'll be if he can't get what he wants: Carrigan by his side for the rest of their lives.
My Opinion
Carrigan and James first met in The Marriage Contract, and at times stole the show away from the two main characters of that tale- Teague and Callista. Their chemistry and interactions were explosive. Needless to say I have been waiting for what seemed like forever to get their story. The Wedding Pact did not disappoint.
These two come from two opposing mobster families. For the last several years, Carrigan has played the role of the dutiful catholic daughter. One who may have aspirations for the church, only a few know that it is a ruse to keep her daddy from marrying her off to another family for more power. As the oldest daughter, he can't marry off the youngest two before her. That way Sloan and Keira are safe, at least that is what Carrigan has been telling herself. Her daddy has had enough- she must decide between her suitors before her birthday. Which is a month away- what the what? That is not enough time, but he has been waiting for several years.
James is the second son, he should not have inherited the Hallorans family business or the troubles that come with it. Yet, fate intervened and now it is his. Not only is the head of the Halloran family, he can't get the O'Malley daughter out of his head. One night was all it took for her to consume him, and for him to make a mistake that could cost him a chance at love.
Carrigan is strong-willed, smart and a tad bit conniving. The death of her beloved brother has taken its toll on her and everyone in her family. She knows what she has to do- marry for power. But it doesn't stop her from having a little fun before hand.
James is tough, yet patient. He is trying his hardest to turn his family around- away from the life of crime and into more legitimate enterprises. His daddy is in jail, his older brother dead it should be easy. He didn't bank on his little brother or the fact that others may want to move into his neighborhood now that leadership is changing hands. He sees the spark in Carrigan and he wants to watch is burn. He knows they are not for each other but that doesn't stop him.
The Wedding Pact is burning hot. Just as flame worthy as The Marriage Contract. This is the first mobster series that I have liked. I cannot wait for the next book in the series to come out. Hopefully the author will have one planned for Carrigan's body guard Liam cause dang is he hot.
My Rating
5 out of 5 stars

Favorite Quote

"You're mine and mine alone."
Other People
Ricky-
James little brother, hate him
Dmitri-
one of Carrigan's suitors
Cillian-
one Carrigan's brothers
Liam-
Carrigan's body guard