Publisher
Entangled Publishing, LLC (Crush)
Published
August 14, 2017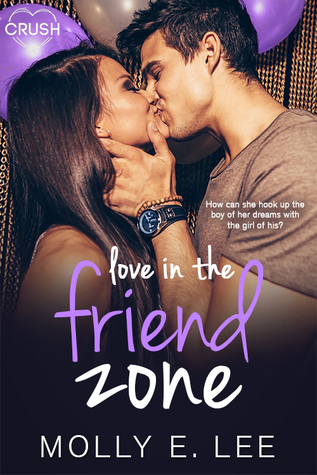 The only thing worse than not being able to tell your best friend you're head over heels in love with him? Having to smile and nod when he enlists your help to ensnare the girl of his dreams.
Braylen didn't even want to go to Lennon Pryor's epic graduation-night party, but when Fynn begs her to be his "wingwoman," she can't deny him. Talking up her BFF—how he's magic behind a camera, with a killer sense of humor and eyelashes that frame the most gorgeous blue eyes in the history of forever—is easy. Supporting his efforts to woo someone so completely wrong for him? Not so much.
Fynn knows that grad night is his last shot before leaving for college to find true love. And thanks to Bray, he gets his chance with the beautiful Katy Evans. But over the course of the coolest party of their high school careers, he starts to see that perhaps what he really wants has been in front of him all along. Bray's been his best friend since kindergarten, though, and he'd rather have her in his life as a friend than not at all.
Disclaimer: This Entangled Teen Crush book contains one epic party, complete with every high-schoolers-gone-bad shenanigan, and two best friends whose sexual chemistry is off the charts…if only they'd succumb to it.

My Opinion
Fynn and Braylen have grown up together, and are best friends. Best friends typically do not keep secrets from each other but Braylen has been keeping one from Fynn. She is in love with him, he has no clue. Fynn thinks that this is the night, the night he finally lands the girl-Katy. So who better to help him than Bray, after all she knows everything about him. Only now that there is another guy in the picture he is not so sure about Katy.
This book is extremely fast-paced, it takes place over one night. It works though given the character's relationship. I love that they have known each other since kindergarten. All the awkward get to know you stuff is out of the way.
Braylen has got to be the most supportive bestie in love with the guy in all of bookdom. She agrees to play wingman to Fynn when really she just wants to kiss him herself. I get that she is afraid of hurting their relationship but girl needs to girl up already. What is the worse that could happen? He doesn't like you in that way?
Fynn is completely in denial of his feelings for Bray and I understand that as well. So much so he is convinced that this other girl is the one. Their banter is perfect for two people that grew up together. I like how they get each other, especially the non-verbal cues. Very cute!
This was a fun read, one where you shake your head and smile. You may even talk to the book a little and say things like "Come on Fynn how blind are you? What were you thinking? Way to go Bray showing off your awesomeness." The secondary characters are hilarious and I cannot wait to get my hands on Zoey and Gordon's book.
My Rating

3 out of 5 stars
Favorite Quote
"Giving bros hope everywhere because he found love i n he friend zone!"
Other People
Katy- girl Fynn is crushing on
Randy- Braylen's accidental wingman
Lennon- Fynn's guy bestie
Zoey- Bray's gal bestie