Author
Susan Dennard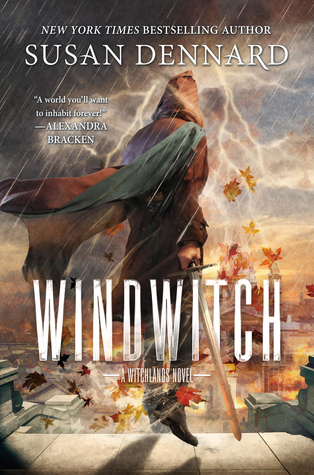 Sometimes our enemies are also our only allies…
After an explosion destroys his ship, the world believes Prince Merik, Windwitch, is dead. Scarred yet alive, Merik is determined to prove his sister's treachery. Upon reaching the royal capital, crowded with refugees, he haunts the streets, fighting for the weak—which leads to whispers of a disfigured demigod, the Fury, who brings justice to the oppressed.
When the Bloodwitch Aeduan discovers a bounty on Iseult, he makes sure to be the first to find her—yet in a surprise twist, Iseult offers him a deal. She will return money stolen from him, if he locates Safi. Now they must work together to cross the Witchlands, while constantly wondering, who will betray whom first?
After a surprise attack and shipwreck, Safi and the Empress of Marstok barely escape with their lives. Alone in a land of pirates, every moment balances on a knife's edge—especially when the pirates' next move could unleash war upon the Witchlands.
My Opinion
***Spoilers from Truthwitch***
Truthwitch ends with Prince Merik, Safi, and Iseult being separated. Safi, a prisoner to the Empress of Marstok. Iseult desperately trying to get to her threadsister. Prince Merik attempting to prevent his sister from destroying their kingdom.
Windwitch starts off with a bang or two as soon as you open the pages. Our heroes are in trouble and without each other to have their backs. Just like Truthwitch, Windwitch is told in multiple points of view. Each view point happening simotamoysly to each other, yet miles and miles apart. This made for the story to drag a bit. In Truthwitch, Safi and Prince Merik's chemistry kept my romantic heart afloat, not so much in Windwitch. Isuelt and Aeduan steal the show here. It was not hard for them to do so as they spend most of the book together.
Merik under goes a transformation in Windwitch, both emotionally and physically as he is savagely burned. His kingdom in mourning as he is for his threadbrother. He becomes the Fury, a mythical being who avenges those who were wrong. He believes that his sister wanted to assassinate him and sets out to prove it. The emotional distress he goes through will be enough to bring tears to your eyes. He is not the only one to go through tough times. Safi and the empress are also attacked then captured by Hell-Bards. They soon find that all is not as it seems and must come to ally with individuals they would rather not.
Safi and Merik, whom Iseult saw threads form have no interaction in this book. Hello… threads that bind. What the what? I will throw the book if there develops a love triangle since there should not be one. Don't have the reads buy in to threads if you are going to forget them.
The best thing about this book was Aeduan and Isuelt. Their interactions, the deal, their give and take. This is a slow burning romance, a very slow building one. So slow I did not even get sun burn. At least there was a burn, again the disconnect between Merik and Safi got to me.
Windwitch was interesting. I loved being back in the world that Truthwitch exposed me to. I loved being back with the characters that made me want to read more fantasy novels. I hated the lack of connections between those characters. While their friends were never far from their minds, Windwitch was missing the key element that Truthwitch gave us….relationships.

My Rating

4 out of 5 stars
Favorite Quote
"Complete freedom isn't always good, nor is the lack of it always bad."
Other People
Vivia- Merik's sister
Vaness- empress of Marstok
Caden- Hell-Bard's captain
Owl- stolen gal