Author
Amanda Carlson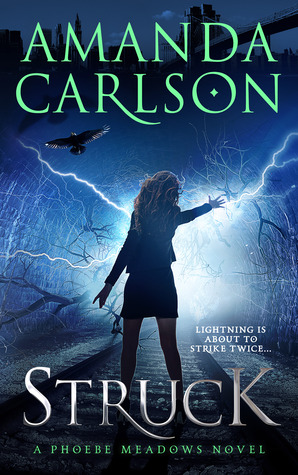 When Phoebe Meadows gets struck by a strange light in the stockroom of Macy's, life as she knows it flies out the window. As if being hit by lightning isn't bad enough, she's accosted in the subway by a man with a missing hand, arrives home to find a raven on her kitchen counter, and her neighbor, Ingrid, shows up dressed like a gladiator hell-bent on protecting her.
Before Ingrid can shuttle her to safety, Phoebe is kidnapped and tossed into one of the Nine Worlds where she's quickly forced to come to terms with what she is: A valkyrie. The only problem is, she has no idea what that means.
After a narrow escape, she finds an unlikely ally in Loki's son, Fenrir. Together the valkyrie and the wolf must battle their way back to New York City and reach the valkyrie stronghold where Ingrid is waiting for her. But with danger and obstacles at every turn, she might not live long enough to learn the full truth about who and what she really is…
My Opinion
Phoebe thought that she was an ordinary gal, trying to make it in the Big Apple. Then she gets struck by lightening, someone grabs her to tell her to run, and her neighbor is claiming to be her protection. The Fates are after her, since she was hidden from them. A task that was actually rather difficult to pull off. When she escapes them she ends up in a different world, one with Fenrir. He confirms what Ingrid was telling her. She is no human, she is a Valkyrie. She must make it to their stronghold so she can train or else she will die at the hands of the Fates.
Phoebe was a bit on the disbelieving side for a while. Once she caught on that this wasn't a prank, she stepped up her game. She knows that she is weaker than those around her, but she doesn't dwell on it. Her goal, stay alive long enough to make it back to Ingrid. If others help her along the way, than she will include them into her small circle. Which is a tad bit naïve to me, hopefully it doesn't bite her in the behind.
Fen is interesting. As the exiled son of Loki, you can feel the anger there. He did nothing to earn the sentence or punishment. It was based on the prediction of the future. Even with his reasons for hating Valkyrie, he saves her. He continues to save her over and over again. Fen is a strong alpha male character that helps Phoebe become familiar with her new world.
Struck is full of Norse mythology which is fun to read about. There are few books right now on it and so it hasn't flooded the market yet. I am sure that it will soon enough. The side characters are relatable and well frankly likeable. Will her bestie and her new brother get together? Does Sam also have Valkyrie blood in her? Why did Odin do what he did? How will Phoebe learn all that she needs to face the Fates? Will they rescue her momma? These are questions that need to be answered.
Struck is a fantastic start to a new urban fantasy series. Questions leave the reader hoping for more sooner rather than later.
My Rating
4 out of 5 stars
Favorite Quote
"You do not mess with the help."

Other People
Sam- Phoebe's bestie
Tyr- surprise Phoebe's brother
Huggie- Odin's henchman