Author
Ella Summers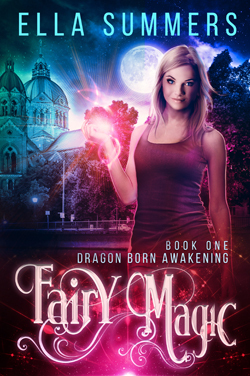 Half-fairy mercenary Naomi Garland has spent her whole life caught between two worlds. She's learned to depend on her sword instead of her weak magic. But when a mission to save kidnapped supernaturals in Munich goes horribly wrong, she discovers an ancient fairy magic she never knew she had: the power to navigate realms.
Naomi uncovers a tear in the veil between earth and the underworld, the home realm of spirits, demons, and ghosts—and the prison of criminals banished there because they were too dangerous and demented for the earth. To stop the rising hellish army and repair the boun
daries between realms, Naomi has to journey into the underworld to find a powerful ally, a dark and tempting Dragon Born mage who has been imprisoned there for seven hundred years.
Fairy Magic is the first book in the Dragon Born Awakening urban fantasy series.
My Opinion
Someone is kidnapping hybrids and no one really cares. Noone that is but Naomi.
Naomi, a hybrid mage fairy, has been the side-kick for both Sera and Alex, so it comes as no surprise that she would get her own series. While this is a stand-alone series, it would helped with the relationships of everyone if you had read the other two series that connect to this one.
Naomi's magic has always been weak, so she has made up for it in kick-butt fighting skills. During a night of weird happenings Naomi is attacked by a mage in a cloak. After the attack she is pulled into another realm and meets Makani an exiled prince. Once she returns to her realm she vows to help him. He in turns promises to help her- she is an extremely rare and powerful spirit warrior.
Naomi is a spirited fairy/mage, one who is confident and self-aware. She knows her strengths and caters to them. She knows her weaknesses and acknowledges them. She understands how her world works. She is relatable and loyal.
Makani is well of course hot and a dragon-born. He just seems too good to be true. He has been trapped in another realm for centuries and easily accepts modern society. Not so sure about that one. He is a gentleman, and has a moral code that he has no problem adhering to.
The banter between the Naomi and Makani is comes naturally. The interactions with Sera, Alex and the dynamic trio were almost family oriented. Overall a good spin-off. I am interested in seeing where this one goes with the big baddie being who they are.
My Rating
3 out of 5 stars

Favorite Quote

"If an assassin could fall in love, maybe there really was still hope for the world."

Other People
Darkshire- evil mage
Firestorm- Makani's sister
Sera- Naomi's bestie
Alex- Naomi's other bestie