Author
Elise Kova
Publisher
Silver Wing Press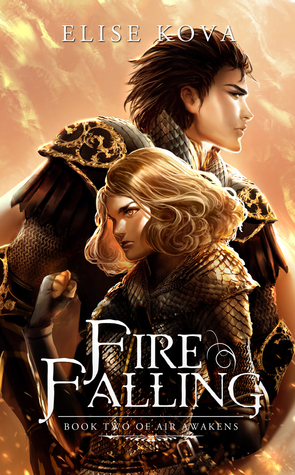 Soldier… Sorcerer… Savior… Who is Vhalla Yarl?
Vhalla Yarl marches to war as property of the Solaris Empire. The Emperor counts on her to bring victory, the Senate counts on her death, and the only thing Vhalla can count on is the fight of her life. As she grapples with the ghosts of her past, new challenges in the present threaten to shatter the remnants of her fragile sanity. Will she maintain her humanity? Or will she truly become the Empire's monster?
Fire Falling is the second book in the Air Awakens Series.
My Opinion
Vhalla has been tried, convicted and sentenced. To the north she marches, along with the army. This includes the Emperor (hate him), Baldair (he is funny) and Aldrik (mister hottie/love interest). Daddy (Emperor) and baby brother both have their own agendas. Aldrik's main concern is keeping Vhalla alive even if that means she can't be near him. Vhalla's main focus is well to be perfectly honest I don't know. It should be survival, but it isn't really. For part of the book it is as if she in shock and just going through the motions- which is completely und
Vhalla has some internal issues going on in this book. She hasn't dealt emotionally with everything that she has been going through. Needless to say this book brings on all the feels. Yes, she does tend to get a bit whiney but after what she has been through can you blame her? She does develop a bit of a backbone especially around Elecia. It helps that her friendships with Fritz and Larel have developed as strongly as they have.
Aldrik is still the confident prince that he started out being in Air Awakens, still arrogant. We do get to see a side to him that we haven't seen before. His protective, I have to save Vhalla even from herself side. He admits to his faults and his errors in judgement along the way. I enjoy their miscommunication almost as much as their communication. It was a delight to watch him both try to protect Vhalla and yet stay away from her at the same time.
Lots of blogger have an opinion about the surprise death, I am not one of them. I did read it as oh my goodness did that just happen, oh poor …. Oh no how will they recover..will they blame each other? The cliffhanger ending was also viewed as oh my goodness what the what? And a few seriously for good measure.
Fire Falling is a good filler book for this series. It had both character and relationship development. Actions happen that will of course be felt in the next book. I am really liking this fantasy tale and am hoping that it continues to be just as good as the first two books.
My Rating
4 out of 5 stars
Favorite Quote

"

Because I promise, this will never be easy—for either of us—and I refuse to love you halfway."

Other People
Baldair- Aldrik's brother
Daniel- one of Baldair's Golden guards
Fritz- Vhalla's bestie
Larel- mentor, Aldrik's friend
Elecia- mystery gal