Author
Mindee Arnett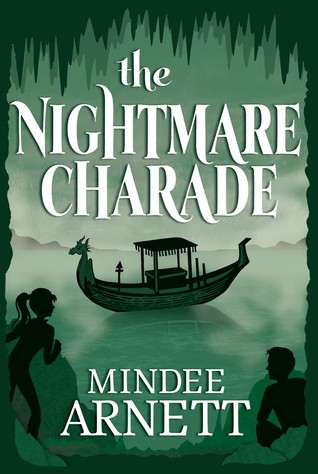 Format
e-book
Print Length
384 pages
Publisher
Tor Teen
Published
August 4, 2015
It's her junior year at Arkwell Academy, and Dusty Everhart just wants to be alone with her boyfriend, Eli Booker. But fate is literally keeping them apart. See, Dusty is a Nightmare, who can enter Eli's dreams to find clues to the future, but an ancient curse predicts that any romance between them is doomed to end in tragedy. Dusty and Eli are willing to take that risk, but the authorities disagree—and have assigned a chaperone to make sure their relationship is strictly platonic.
As if that's not bad enough, they've been recruited by the Department of Intelligence for Magickind Secrecy (D.I.M.S.) to use their dream-seer bond to help recover the most powerful object of black magic known to magickind. The Animus Mortem can raise the dead by stealing the souls of the living…which makes tracking it down a genuine matter of life and death.
To make matters worse, one of Dusty's friends is accused of murder and is counting on her to clear his name.
Dusty has too many dreams, too many commitments, and too many people looking over her shoulder, but a Nightmare seldom plays by the rules. Curse or no curse, chaperone or not, she has to go deep into Eli's dreams if she's going to find the truth—and discover a way for them to truly be together at last!
My Opinion
When you read a series ender you know going into it that it will be bittersweet. You are with your beloved characters for the last time. Which is why it is also nerve wrecking. Will the author do right by them or will they be met with nefarious means? The Arkwell Academy series ends on a good note. The Nightmare Charade tidied up loose ends and allowed the characters to still grow.
The Nightmare Charade beings several months after The Nightmare Dilemma ends. The summer months have kept Dusty and Eli apart. Dusty and Eli have been separated due to camp and traveling. They haven't felt the ramifications of their actions in The Nightmare Dilemma too much and so returning to the campus has Dusty nervous. Nervous about how Eli will react. Too bad she didn't count on the council to intervene. Man, do they take curses series in this world.
The DIMS sends a new investigator, Detective Valentine to the Academy. Lady Elaine accompanies him and they ask Dusty and Eli to find an important artifact. One that is missing and could be used to bring the Red Warlock back. Not only that but Detective Valentine arrests Dusty's momma for murder. Apparently, she broke into a highly secure jail and killed a murder suspect. Have no fear the Dream Team is on it (yeah that is what this Scooby Squad calls themselves).
Poor Dusty and Eli. They are starting off a fresh relationship and at every turn they are faced with people opposing them. The council is so against it, that Eli and Dusty have no alone time at all. Seriously, not even during dream feedings. The opposition to the pairing can be a little daunting. Selene, Dusty's best friend really comes into her own in this one. She is no longer willing to be a background character. Her character development really made the book for me.
I liked The Nightmare Charade. I did think that there could have been more action. Maybe a little bit more romantic time between Eli and Dusty. Overall, it was a good book. The ending has an OMG moment, just wishing that there were more throughout the book.
My Rating

3 out 5 stars
Favorite Quote
"Is that the real you and not the imagined one I've been stuck with these last few weeks?"
Other People
Selene-
Dusty's bff
Lane-
Eli's roomie, bff and Selene's love interest
Paul-
Dusty's ex, use to be evil, trying to reform
Mr. Deverell-
Dusty's mentor