Author
Candace Havens
Format
e-book
Print Length
?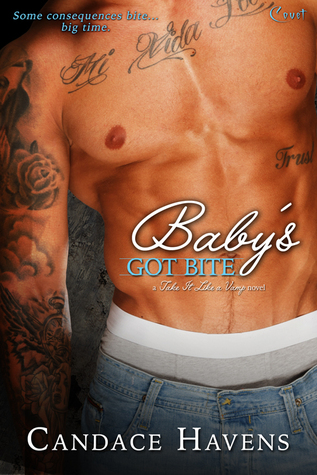 Publisher
Entangled Publishing: Covet
Published
July 27, 2015
Some consequences bite . . . big time.
Bennett Langdon has a firm no-relationships policy. Still, it doesn't stop her from hooking up with a super-sexy bad boy at her best friend's wedding. After all, it's only one night—what harm could it do? Ten weeks later, a pregnant Bennett has her answer...
Linc Monahan can't believe it. This wasn't supposed to happen. He's a werewolf, and shouldn't be able to father a child with a human. Now Linc has to find some way to tell Bennett that not only do werewolves exist, but she's about to have a baby with one.
But when word of their surprise conception gets out, the fur hits the fan. There are people who don't want this baby to be born—even if it means killing. Now Bennett and Linc aren't just fighting each other . . . they're fighting for their lives.
My Opinion
We are introduced to Bennett and Linc in Take It Like A Vamp. They were both the besties of the main characters. Baby's Got Bite is their story. At Nick and Casey's wedding they hook up, a little bit late Bennett gets sick. As her illness does not go away she starts to think about when her last period was- then the dreaded drive to buy a test or maybe ten. This of course leads to a positive test, a few more taken and all of them positive. Okay so here is the deal, Linc is a werewolf. They can't get humans pregnant. So it would stand to reason that Bennett is not a human, like she and everyone else believes. She never did know her daddy. Which is why she has total boy issues.
Linc of course steps up to the plate and goes with the flow. He lives in a dangerous world and he knows that Bennett and the baby has to be protected. Protected from whom is the real question though- her family, his family, their enemies. The hits come from all sides.
I like that Bennett is a strong gal. She is not afraid to voice her opinion. Nor does she need a man in her life. She just wants her baby to know her daddy- since she did not know hers. Linc for his part seriously gets mad props for not once questioning Bennett. She says the baby is his, he believes her (even when werewolves can't get humans pregnant). He moves her into his place due to the danger that they are in now that they are connected to him. He really is with Bennett every step of the way.
Their relationship builds throughout the book. This is no insta-love tale. But instead a love that grows from a mutual connection. Pregnancy in this world does not last nine months- way shorter! Wooohooo for Bennett!
Baby Got's Bite is an easy entertaining read. Hopefully, there will be more books to read from this world.
My Rating
3 out of 5 stars
Favorite Quote
The mom-to-be might turn into a screeching banshee and try to rip your balls off, but it was important to stay positive and keep a level tone.
Other People
Nick-
Linc's bestie
Casey-
Bennett's bestie
Alex Throngood-
fae king