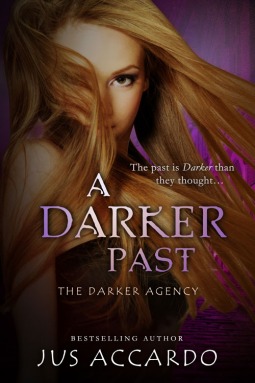 Author Jus Accardo
Format E-ARC
Print Length
Publisher Entangled Teen
Published Nov. 11, 2014
The past is Darker than they thought...
Between helping her mother with the Darker Agency and laying the smack down on monster baddies, Jessie Darker puts the "normal" in paranormal. But lately, things have gotten a little crazy...even for a smart-assed half-demon teenage girl.
For starters, Jessie's been contracted into fifty-five years of annoying servitude. To a demon. Then there's Lukas Scott, her sexy new boyfriend. Once the former incarnation of Wrath, he's been going through some...uh, changes. Like residual anger. And trading chaste hangouts for lusty make-out sessions.
But it's when Lukas and Jessie accidentally release a Very Nasty Demon that things get really bad, setting into motion a chain of death and mayhem that threatens both Earth and the Shadow Realm. Jessie has exactly four days to fix it...before all of Hell breaks loose.
My Opinion
Spoiler alarm spoiler alarm…. If you did not read Darker Days do not read this review as it will ruin it for you.
A Darker Past starts off a few weeks after Darker Days ends. Jessie's daddy is spening more time on our realm and Jessie is spending more time on his. I mean after all she is bound to the demon, Valefar for the next fifty years. Daddy dearest has decided that Jessie needs a bodyguard, who happens to come in the form of her boyfriend Lukas. This is great until Lukas old crush decides to crash the party and a baddie demon is released. This demon is wreaking havoc across their town, and it seems like the witches of the town are not safe. This is not good, not good at all as Jessie's bestie is a witch. So…. what is Jessie and Lukas to do but confront and defeat it.
Jessie is as spunky as ever in this tale. She has faced demons and lived, she has bonded herself to one and lived. There is nothing that she cannot do, especially if she has the faith of her momma and her bestie Kendra. There are moments when self-doubt arises but she just faces it head on and then starts to kick some demon behind.
Lukas is an added bonus. He is still dealing with the after effects of being attached to Wrath for so long but he has is almost always in control of himself around Jessie. He worries about her and is extremely protective of her. He is having issues with all the changes in the world especially the courting changes. Don't worry our gal Jessie will help him out in that area.
Speaking of protective, Valefar, surprises me in this one. He is the demon that holds Jessie's contract, so we are supposed to hate him but to be honest we cannot because he is so well just wait your will see. He has a hidden agenda but he seriously protects Jessie's behind the scenes. He works around the confines of the rules of his realm and guides Jessie through them. She just doesn't know that she is being guided.
I absolutely loved loved loved this book. Jessie, Lukas and Kendra are my new besties. There was not a moment were I wanted to put it down. Fast-paced, fun-loving novel that seriously leaves you wanting more.
My Rating
4 stars out of 5
Favorite Quote
I was a bad influence on his resolve, he told me, I kinda loved that.
Other People
Kendra- witchy bestie
Valefar- Demon who holds Jessie's contract
Cassidy- Kendra's witchy mom, she is a mean one