Hey y'all, thanks so much for stopping by my WoW!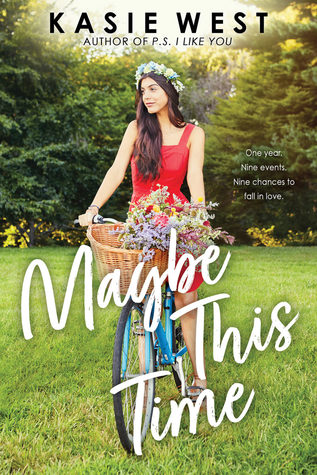 One year. Nine events. Nine chances to . . . fall in love?
Weddings. Funerals. Barbecues. New Year's Eve parties. Name the occasion, and Sophie Evans will be there. Well, she has to be there. Sophie works for the local florist, so she can be found at every big event in her small hometown, arranging bouquets and managing family dramas.
Enter Andrew Hart. The son of the fancy new chef in town, Andrew is suddenly required to attend all the same events as Sophie. Entitled, arrogant, preppy Andrew. Sophie just wants to get her job done and finish up her sketches so she can apply to design school. But every time she turns around, there is Andrew, getting in her way and making her life more complicated. Until one day she wonders if maybe complicated isn't so bad after all . . .
Told over the course of one year and following Sophie from event to event, this delightful novel from master of romantic comedy Kasie West shows how love can blossom in unexpected places.
Why am I waiting?
Kasie West is one of the few contemporary authors that I read. Her stories always bring on the feelings and leave me with a smile on my face.