Sometimes it is just fun to tag a book, let folks get a snippet of what you love to read and maybe even check out a book or two that they didn't realize was out. I of course got this one from Jessica's blog
a GREAT read
, who saw it at at
Paper Fury
and couldn't pass it up because I love a good book tag! Lol! It was originally created by Becky at
Blogs of a Bookaholic
! Using all the images from Becky because they were cute and absolutely perfect!
There are hidden gems throughout this book!
"May the joy of the future sustain you through the trails of the present."
The wit and sass is strong in Tess aka 'Red" in the Transplanted tales series.
"Dear God, it was a morning person conspiracy."
I have read this one three times already. Sometimes you just need a book with characters you can relate to- real life problems and real life consequences.
"I don't like the words 'I'm fine.' My mom tells me those two words are the most-frequently-told lie in the English language."
The romance, the angst, the cliffhanger! I need to know what happens to Bettina, Jackson and the gang! How will they get out of this? Is hope lost? Is Jackson destined for another?
"Maybe there was hope for me after all."
Blood Lust was a thrilling ride from the first page to the last.
"Emotions are the enemy."
I am sure that people will compare Lord Carlston to Mr. Darcy. Let me just say that Lord Carlston is NO Mr. Darcy. He may share some characteristics but he seemed more like a Dr. Frankenstein with two different sides that a Mr. Darcy. Dark, angry with a lot more guilt as well.
"Sometimes there is no good choice."
The big baddie is…. well they cause you to do a double take. Makes sense, they are playing both sides. They make you suspicious though of everyone in the Dark Alliance. Who else has also turned? Who else is a traitor? Not only that but what a great actor they must have been to never once give away their true emotions.
"I like the way you see me- even if it's untrue."
There were typically two team here- those that were Team Derek and those that were Team Lucas. I wasn't sure which team I was on while reading the series. I know for a long time I was on Team Lucas is a jerk, don't fall for him. Yet in the end, they made sense.
"Life's hard. Love's harder."
Remember that this tag was made by someone else. A strawberry uncrustable is pretty yummy!
Freddy MacKilligan has got to be the worse father on the face of this planet. How he uses his daughters for the betterment of himself just makes me want to go all "Max or Charlie" on him!
"If you do it yourself, you get it done the way you want without having to constantly explain or give direction."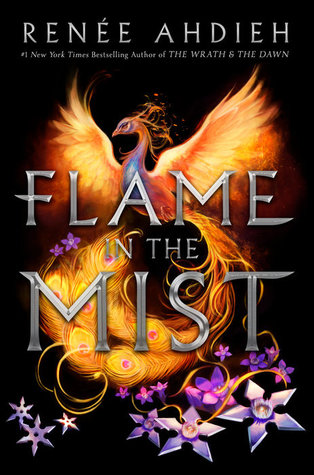 Flame In The Mist brings feudal japan to life in the most dramatic of ways.
There you have it! If you feel like joining it, consider yourself tagged!!