Author
Jennifer L. Armentrout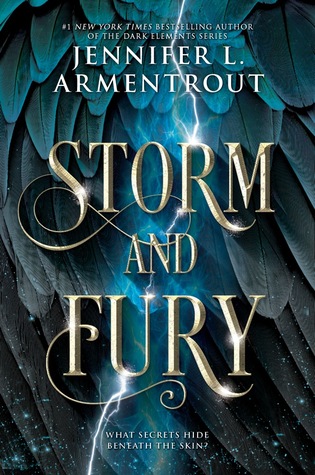 Eighteen-year-old Trinity Marrow may be going blind, but she can see and communicate with ghosts and spirits. Her unique gift is part of a secret so dangerous that she's been in hiding for years in an isolated compound fiercely guarded by Wardens—gargoyle shape-shifters who protect humankind from demons. If the demons discover the truth about Trinity, they'll devour her, flesh and bone, to enhance their own powers.
When Wardens from another clan arrive with disturbing reports that something out there is killing both demons and Wardens, Trinity's safe world implodes. Not the least because one of the outsiders is the most annoying and fascinating person she's ever met. Zayne has secrets of his own that will upend her world yet again—but working together becomes imperative once demons breach the compound and Trinity's secret comes to light. To save her family and maybe the world, she'll have to put her trust in Zayne. But all bets are off as a supernatural war is unleashed…
My Opinion
You do not have to read The Dark Elements series to enjoy this one, but I recommend it. There may be spoilers in this review for that series so continue to read at your own risk.
This is the first book in a spin-off of The Dark Elements series, in which Zayne was one love intrest for a short while of Layla the main character from that series. He also was her bestie and lets just say there is a lot of awkwardness due to how that series ended. Some series, when they end they just end and you go on about your life. Others you wonder what happened to the one that got away or the one that didn't get the love of their life. Did they move on? Or lay around in misery eating ice cream. Zayne was a character that I wondered about. He was just so good, that it felt wrong that he was denied love. So of course I jumped at the chance to fall back into this world of gargoyles, angels and demons.
Zayne carries with him the baggage of what went down in The Dark Elements. How could he not, with everyone and everything that he lost. Although he is still a good guy, you can see that he has become a bit more jaded- this gives him an edge that he was lacking previously. One that allows him to be more snarky and brazen than he was before. I like this new side to him, although in full disclosure, I am a Zayne fan.
Trinity had lived on the Warden compound for most of her life. Most there think that she is a full human, she in reality is mixed. With her bloodline, she needs a protector-Misha, a Warden is hers. They bonded at a young age, her power fueled his and his powers protected her more human side of things. Trinity for the most part is left alone at the compound, with Misha and Jada her only friends. This has kept her content yet yearning for more. It doesn't help that she can speak to ghost and tries desperately to help them when they need it. Trinity has more strength than even she knows, which will soon be tested.
When Zayne shows up, she is curious about him and the rest of the newcomers. Just as he is curious about how a human is living in a Warden compound. They have no chance to get to know one another as there is a demon attack and someone dear has been taken. So Trinity takes off for Washington DC, where Zayne promises help her if he can. In order to help he has to open his suitcase size of baggage. This is where things get really interesting.
I like the chemistry between these two. It isn't insta-love or insta-lust. It's mores of curiosity killed the cat kinda chemistry. I desperately want Zayne to have his happily ever after, hopefully Trinity can deliver. She isn't as feisty or fiery as Layla and I had hoped that the gal he fell for could hold her own next to Layla. Not seeing that happen right now but again, I am hoping in the next book that Trinity comes more out of her shell.
Those of us that read the Dark Elements series fell into two groups- Team Roth and Team Zayne. So this one can be bittersweet for those that team Zayne. I enjoyed seeing old favorites, although I think that one of them this time was a little too pushy-Layla looking at you here. I trust JLA enough to know that there will be more feelings brought forth in the next book in this series. This one set the groundwork, and background for an epic adventure.
My Rating
5 out of 5 stars
Favorite Quote
Greed for power knows no discrimination, no boundaries.
Other People
Misha- bonded to Trinity
Peanut- Trinity's bestie of a sorts
Thierry/Matthew- wardens who basically adopts Trinity