Author Kimberly Loth
Format e-book
Print Length 728 pages
Publisher self
Published Jan. 23, 2017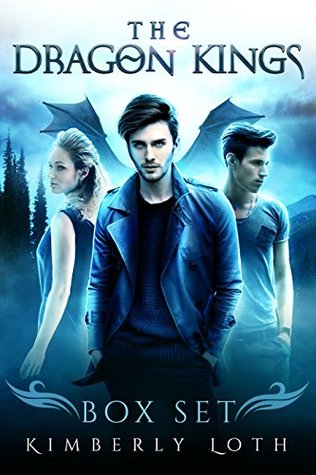 Get all five books this thrilling Amazon Best Selling Series, the Dragon Kings now!
From Obsidian, Book 1:
Seventeen-year-old Aspen is a skydiving, rock climbing, adrenaline junky. All her life, she's been fascinated by the dragons who roam near her home in Yellowstone Park. Yes, Dragons. Though no human has ever gotten close enough to touch one.
Except Aspen.
While most people avoid the national parks because of the resident dragons, Aspen spends most of her free time in search of the feared and misunderstood creatures. For her, studying the dragons is a way to escape a painful past and avoid getting too close to anyone.
She'd rather track dragons in the wild and through the lens of her camera than talk to real people. But then Aspen meets a hot new guy at school, Sid King. He's the one person she's ever met who shares her obsession with all things dragon. But even as she feels strangely drawn to the mysterious boy, she senses he's hiding his own set of dark and powerful secrets.
When hikers start turning up dead in the park, everyone suspects the formidable predators. Unless Aspen can prove their innocence, every one of her beloved dragons is in danger of eradication.
After Aspen and Sid uncover a sinister plot behind the brutal attacks, Aspen can no longer deny that Sid somehow knows more about the deaths than he should and the secrets they both keep threaten to rip their lives apart forever.
My Opinion
Due to this being a box set, I will be reviewing the first book only.
Aspen and her twin Rowan, grew up on the grounds of national parks- their parents are park rangers. National parks also happen to be where the dragons are located. Most humans avoid them, not Aspen. A thrill seeker till the end, she loves photographing the majestic animals. Sid is the new kid at school and he is hiding something. (Think Twilight here). Sid just found out that he the new dragon king- and he has to spend the next 10 years as a human. Being the new king, means that he and his girlfriend of hundreds of years have to break up. A dragon is killing humans- eating them- and Aspen/Sid have set out to find the murderer.
Aspen tries to be feisty and says she is a dare devil. She is also a loner with only one friend, Tori. Tori is annoying and I did not really get this relationship at all. Aspen is completely rude to Sid, and he just keeps coming back for more. Sid is supposed to be the king of dragons, and yet he acts like a lovesick child.
Both main characters seem a little emotionally dull. Aspen had a horrible event happen to her and it doesn't really affect her. Sid just spend several centuries with another gal, and is not even a little heartbroken about not being able to be with her. The chemistry is lacking between these two.
The most interesting part is the tattoo that appeared on Aspen's ankle. I kept reading to figure out how they played into the story. There were a lot of secondary characters that made you want to find out what happens with them. They also held my interesting. Aspen and Sid not so much.
If you like antsy teen relationships without a lot substance than this is the book for you.
It wasn't for me but here are some reviews that praise the book.
Amanda
rated this 4 out of 5 stars
Kelly
rated it 5 out of 5 stars
My Rating
2 out of 5 stars
Favorite Quote
Dragons have a place in my heart that no boy could ever fill.
Other People
Rowan- Aspen's twin brother
Tori- Aspen's best friend
Teddie- Sid's bestie
Sky- Sid's ex-girlfriend
Ella- Aspen's and Sid's boss