Author
Ilona Andrews
Format
e-book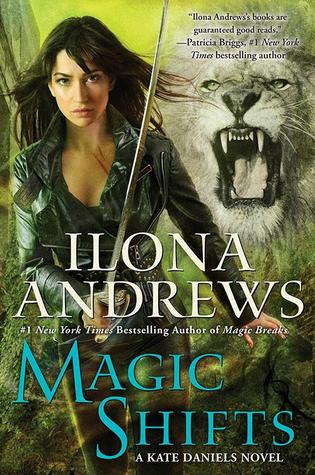 Print Length
342 pages
Publisher
Ace
Published
August 2, 2015
In the latest Kate Daniels novel from #1 New York Timesbestselling author Ilona Andrews, magic is coming and going in waves in post-Shift Atlanta—and each crest leaves danger in its wake…
After breaking from life with the Pack, mercenary Kate Daniels and her mate—former Beast Lord Curran Lennart—are adjusting to a very different pace. While they're thrilled to escape all the infighting, Curran misses the constant challenges of leading the shapeshifters.
So when the Pack offers him its stake in the Mercenary Guild, Curran seizes the opportunity—too bad the Guild wants nothing to do with him and Kate. Luckily, as a veteran merc, Kate can take over any of the Guild's unfinished jobs in order to bring in money and build their reputation. But what Kate and Curran don't realize is that the odd jobs they've been working are all connected.
An ancient enemy has arisen, and Kate and Curran are the only ones who can stop it—before it takes their city apart piece by piece…
My Opinion
Curran is no longer Beast Lord and Kate is no longer Consort of the Pack. Those positions are now held by Jim and Dali. George comes to Kate to help her find Eduardo a werebuffalo that she has come to love. George is Mahon's daughter, she was raised with Curran as her brother. Mahon doesn't want his daughter to be with Eduardo and so is refusing to search for him. Eduardo was working for the Mercenary Guild, Kate's old employer- when he disappeared.
Once they start investigating Kate realizes that there is more to this than just Edwardo disappearing. He was targeted on purpose. She must find out why, and how to prevent the destruction that will occur if the evil force has enough power.
It was interesting to see Kate and Curran as a "normal" couple. No longer having the responsibility of the Pack and Curran's status as borders to their life. They handle the transition fairly well, bringing Julie along for the ride. Their chemistry and love for each other is prevalent throughout the book. Yet the book was more about Kate and Curran's relationship with everyone else verses each other. They are solid together, there are swoony moments.
Magic Shifts was a good addition to a great series. Unfortunately, that is how I thought of it. As an addition. It didn't really add to the series, or take away from the series. Just seemed more like a side story.
My Rating
3 out of 5 stars
Favorite Quote
"The moment you start speaking, you become less scary, and I had no intention of being less scary."
Other People
Derek-
wolf shifter, Kate's trusty side-kick
Julie-
Kate's ward
Mahon-
Alpha of Clan Heavy
Barabas-
Curran's lawyer
Ghastek-
Master of the Dead
Roland-
Kate's daddy, kinda evil